By Joanna D. Samson, FOTAS Vice President
His name is Ox, well, because he is big as an ox. He has a big, sleek muscular body; a great big ol' head; and a big twinkle in his big golden eyes. When he's happy (which is just about all the time) he has a big goofy smile with a big goofy tongue that hangs out of the side of his mouth.
Our buddy Ox does everything in a big way. He waits patiently (okay, maybe "patiently" is stretching it a teeny bit) for his walk and his time in the play yard, where he tears around in a fit of joy, romping with his friends, checking in with the handler in the yard for a quick scratch behind the ears, chasing his best pal Russell at a speed that defies his 60 pounds of muscle, stopping for a little splash in the pool, and doing his canine duty to greet newcomers to the yard with a sniff, a lick and a mad wiggle that says "No worries here, friend, just lots and lots of fun!"
You see, Ox has a big presence and an even bigger personality – he exudes good will from every pore. Yet Ox, like so many of his brethren at the Aiken County Animal Shelter, has been betrayed by the human race. Ox was dumped by his owner in a rural area east of Aiken. He spent his days roaming the streets and scrounging for food. Whenever a car passed, Ox would perk up and run to the road, tail wagging frantically, like he was thinking "Maybe it's my human! I knew they'd come back for me."
But of course, they didn't. A kind local family took him in, had him fixed through FOTAS Fix-a-Pet, and tried to find him a home. They were unable to do so, and eventually they surrendered Ox to the County Shelter with a heavy heart.
An examination by the Shelter veterinarian, Dr. Lisa Levy, revealed that Ox is heartworm positive. But he was sweet and willing and otherwise healthy, so FOTAS paid for his heartworm treatment. He was moved to the adoption floor the same week that FOTAS and the Shelter implemented canine play groups in the yard as a way to socialize the dogs, allow them to blow off some steam and relieve the stress of confinement.
Ox's transformation in play group has been nothing short of amazing. In two short weeks, he has gone from a dog climbing out of his skin with desperate, pent-up energy to a happy, affectionate dog who plays all morning with robust abandonment and then trots calmly back to his kennel for a nap.
Ox needs a home. This 2 year-old bundle of love with the big personality and the big smile has an even bigger heart. He needs someone to love and someplace to play. He's great with kids and other dogs.
Please don't wait – claim our big boy for your own. Maybe you can be that person in the car Ox has been waiting for so long.
His life is in our hands.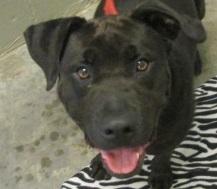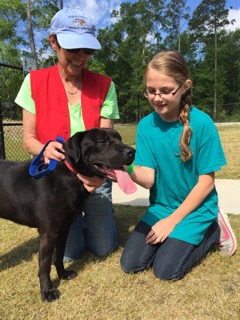 Above:  Ox, Ellie Joos, the FOTAS On-Site Events Coordinator, and Emily Heath take a break in the play yard.