Rosetta is on a couch, stretched out on her back with her eyes closed as FOTAS Volunteer John Berk simultaneously texts on his phone and rubs her chest. She opens her eyes briefly to gaze up at him, clearly appreciative of the special attention. "You're a good girl," Berk says quietly. Rosetta shuts her eyes again and her face breaks into a goofy grin. Seeing the stocky dog's trademark smile, accentuated by her long tongue hanging to the side, causes Berk to chuckle.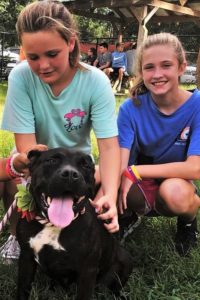 "I don't know why she hasn't been adopted," he says. "She loves people, especially children, and gets along with most dogs and cats. She walks like a dream on a leash and one of here favorite activities is to go on a car ride." She's also housebroken and likes to cuddle with people, sometimes falling asleep in their arms.
Despite all her terrific attributes, Rosetta has been on the adoption floor, waiting for a forever home, longer than any other animal at the Aiken County Animal Shelter (ACAS) .
When she arrived at the shelter as a stray, Rosetta barely had any fur due to a skin infection. She showed other physical signs of neglect – underweight, flea bitten and raw elbows that were likely caused by long stretches of having to lay and sleep on a hard, rough surface like concrete.
But somehow, she's maintained her upbeat personality and love for life. No matter how many times visitors pass her over to adopt other dogs, the 5-year-old, 48-pound sweetheart never quits walking up to the front of her kennel to greet new people. Sometimes she pushes the left side of her head against the door, inviting them to rub her ears and neck. Her skin infection is cured and her sleek black and brindle coat has completely filled in, so she looks fantastic. Still, no one has adopted her.
With more than 400 strays and surrendered pets arriving at the shelter so far this month, some great dogs are bound to get lost in the crowd – but Rosetta is long overdue to find a home.
Another dog who has been at the shelter too long and urgently needs a good home is Polo. This friendly, 3-year-old, 50-pound mixed breed was rescued from a brutal life in which he spent most of his time on a short chain with no shelter and little food and water.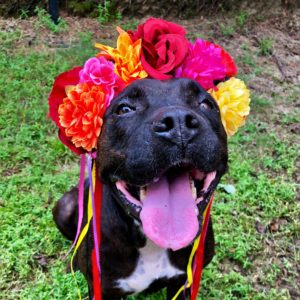 But after working with FOTAS Foster Yvonne Brookes, he is doing wonderfully and quickly learning to be patient and respectful.
He's already housebroken, walks great on a leash and sits on command. Polo would do best in a home that has a fenced in yard because he's athletic and loves to run. He's super sweet but would do best as an only pet.
Both Rosetta and Polo have been sponsored by generous FOTAS donors, so their adoptions are paid for – please consider adding one of these special dogs to your family.
Their lives are in our hands.
— by Bob Gordon, FOTAS Communications Director
Pets of the Week
BOSCO: Domestic shorthair kitten, male, black, 3 months old, 2.5 pounds – $10

TEDDY: Mixed breed, male, brindle, 4-1/2 years old, 44 pounds – $35