By Kathy Jacobs, FOTAS Programs Coordinator
This has been a very heartbreaking week. In just six days, the Aiken County Animal Shelter (ACAS) received 150 homeless dogs and cats. Many of these animals were brought in by Animal Control Officers, who pick up the stray, neglected, abused or abandoned animals wandering our streets. Some were brought in sick or old by their owners while still others were pets whose families had to relocate or could not afford to keep them anymore.
When we look at the numbers, sometimes we can forget about the individuals. But these animals are so full of love, they deserve to have their stories told. By no fault of their own, they have been cast out and left in the care of our shelter staff and FOTAS volunteers.
Here are just a couple of the stories from last week's new arrivals:
Meet Poseidon, a lovely two-year-old Shepherd mix that was surrendered by his owner. He had an embedded collar that was removed and is now healing. He was also neutered when he arrived and will be ready for adoption soon. We are so happy that he is now getting the care that he needs.
Nike and Brian are two feline brothers who were also surrendered by their owner. They are chubby, healthy little boys that were in a loving home but their owner could no longer afford to keep them. These handsome Tuxedo cats are bewildered and wondering why they are in a kennel. I hope that someone will read this and know how important it is to adopt them and keep them together.
Each of these wonderful animals knows what it means to be a pet. They once had homes but now are orphans. There are hundreds more at the shelter just like them and each animal has their own story of pain and trauma. As a community, it is our job to help them.
Despite being removed from their homes and left in a kennel surrounded by unfamiliar smells, noises and faces, these animals still wag their tails when we visit them or purr when we pet them. They appreciate any attention they are given and will make amazing pets!
As a community, we need to diminish the number of homeless animals in our area. FOTAS and Aiken County provide spay and neuter vouchers to families that cannot afford to fix their pets. Take advantage of this service! Also, please do not purchase a dog from a breeder or a kitten off of Craigslist. This only adds to the problem. We have every type of puppy, dog, kitten and cat pass through our shelter. I guarantee we can find the right friend for you.
For more information about how you can help or adopt a shelter animal, please visit the FOTAS website, www.fotasaiken.org, or call the Aiken County Animal Shelter, (803) 642-1537.
Their lives are in our hands …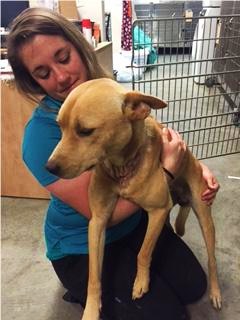 Poseidon, a Shepherd mix surrendered by his owner, is held by ACAS Adoption Coordinator Traci Deaderick.
Nike and Brian came to the shelter because their owner could no longer afford to keep them.