by Bob Gordon, FOTAS Director of Communications
A small, stray dog adopted from the Aiken County Animal Shelter is making a huge difference in 20-year-old Max Conger's life. The short coat Chihuahua mix named Bradley, who was picked up as a stray in Batesburg, is helping Max lead a fuller, happier life in New Holland, PA.
"Max is autistic and has some anxiety issues, but having Bradley by his side helps him to get out of the house and feel more comfortable and secure when he goes on errands or has to engage with strangers," said Nancy Boyer, his aunt. "The dog gives him emotional support and acts as a bridge between Max and people."
Nobody could have known that this skinny, 20-pound, brown dog found wandering the streets with no collar and brought to the shelter, would eventually become an exemplary emotional support dog. But FOTAS Programs Coordinator Kathy Jacobs, who can spot canine talent as well as anyone, had a hunch Bradley's calm demeanor might serve Max's needs.
"Kathy understood exactly what Max was looking for and she put a lot of time and effort into finding us the best match," Nancy said. "Bradley is very people friendly and dog friendly – and he has a level of calmness that helps Max stay centered and less anxious."
Max and his mom – Nancy's sister, Becky – came to visit Nancy in Aiken and stopped by the Shelter to see Bradley. As soon as Kathy introduced Max to the confident and outgoing 1-year-old Chihuahua mix, everyone could see they had great chemistry. Bradley climbed into Max's lap and immediately engaged with him. Even though Max did not say much due to his disability, Bradley looked comfortable and content with his new companion.
Bradley now lives with Max in New Holland and goes everywhere with him. He has greatly improved the young man's quality of life by becoming his best friend. One of the traits that makes Bradley such a great furry best friend and source of support for Max is his flexibility – he is equally happy being a running partner, going on errands or staying in and watching TV.
Emotional support animals like Bradley provide therapeutic, physiological and psychological benefits to individuals with special needs.  These needs can range from depressive disorders to autism to Tourette syndrome. Emotional support animals can be dogs or cats, or any pets able to provide affection, companionship, emotional comfort and support.
"I truly wish more families with special needs children and adults would contact us," Kathy said.  "There are many shelter animals that would not only love them completely but also fill an important need."
Limited time FOTAS adoption special: Dogs and puppies can be adopted for $17.76 through Saturday, July 8! Cats and kittens are just $10. Help homeless animals celebrate their independence from the County Shelter by taking advantage of these low prices.
Their lives are in our hands.

Pets of the Week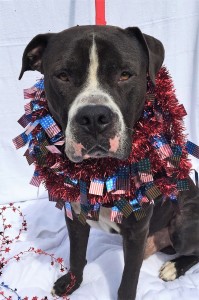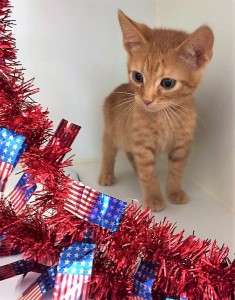 Adoption Specials

July 1-8: dogs and puppies $17.76
July 1 – 31:  cats and kittens $10