by Bob Gordon, FOTAS Director of Communications
In last week's column, Dr. Lisa Levy, the Aiken County Animal Shelter's veterinarian, wrote about saving three cats that were brought in with chronic conditions. But after these special felines were saved through challenging surgeries, what happened to them? Here is how three cats – Rose, Stump and Aimee – beat the odds and found loving forever homes. These extraordinary animals are not only recovering from their dark, painful pasts, but are making a positive difference in their adopters' lives.
Rose, who had to have emergency surgery to remove her infected uterus, is lucky to be alive. But now fully recovered, she is thriving in her new home with Annabel Bradham. The 3-year-old, long-haired, gray cat was shy and a bit skittish at first due to the trauma she's been through, but is blooming into an outgoing, confident feline.
"Rose is doing wonderfully," said Annabel. "I have absolutely fallen in love with her and she's made herself at home…usually you can find her sleeping on the couch. She's the perfect cat for me."
Rose is currently staying with Annabel, her mom and two sisters, in their North Augusta home. But she will be Annabel's roommate when she goes back to school at the College of Charleston.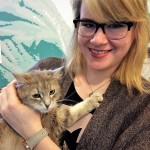 Stump, the cat brought to the Shelter with his tail torn off, is also doing very well. Kristen Walker, who found the 7-month-old kitty badly injured and with a belt wrapped around his neck, ended up adopting him! Kristen said she's not the kind of person that usually gets all warm and gooey inside when she sees a stray animal. But something about Stump (who she renamed Panda) touched her. Maybe it was the abuse he had suffered or the way he looked at her. But she knew her life had changed the instant she pulled the bleeding, maggot infested cat out of the bushes.
"I've never had an animal click with me like that," Kristen said. "From the moment I picked him up and held him, I felt he should be part of our family."
Panda is now a very happy cat and Kristen and her husband, Chris, are thrilled to have him in their Graniteville home. The big-eyed, white and black feline sleeps in their son's bed and is best friends with the family dog, Kenway.
Aimee, the 1-year-old cat who arrived at the Shelter with her left, rear leg so deformed and mangled it had to be amputated, is now living the good life in her new Augusta home. Brad and Dana Harris adopted the special needs feline after seeing her photo and story posted on Facebook. They renamed the three-legged cat "Ilean" and she has already bonded with the Harris family's other pets – Gilligan, a 26-pound Lynx hybrid cat; Skipper, a Siamese cat; and Bella, a German Shepherd/Boxer mix.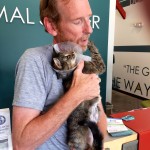 Ilean has also become fast friends with the children in the family – especially the Harris's 8-year-old grandson.
"She's been good for him and the first animal he's really gotten close to," Brad said. "And I've noticed he's more interested in the other animals as well. Maybe it's because he can tell she's had a hard life and needs extra love."
Their lives are in our hands.
PETS OF THE WEEK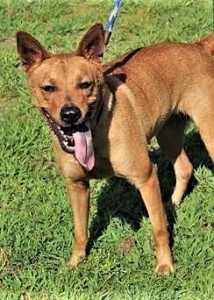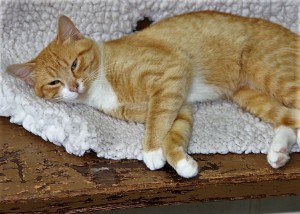 By the Numbers
From June 1-21, 2017,   360 dogs and cats were received by the County Shelter.
All cats are just $10 in June — Dogs are $35.00.