by Bob Gordon, FOTAS Director of Communications
The American Pit Bull Terrier or "Pit Bull" was America's dog during World War I and their photos were used in military posters. Because of their popularity, "Bullies" or "Pibbles" were often used in advertising, including the Buster Brown shoes campaign. In fact, the first famous dog to star on TV was a Pit Bull. Remember Petey, the white dog with the black ring around one eye who starred in the Our Gang comedies in the 1930s? Yep, the cute canine who often joined the Little Rascals in their fun-filled adventures was a Pit Bull.
The County Shelter takes in a lot of stray and surrendered Pit Bull mixes, so we're familiar with the positive attributes of this breed. Smart, goofy, athletic, high-energy and very loving, these are some of the best pets available for adoption.

Unfortunately, starting around the mid-80s, Pit Bulls and Pit Bull mixed breeds started to get a bad rap in the media. Dog fighting surged in popularity and criminals chose the breed due to their physical strength. These villains nearly destroyed the rich history of the Pit Bull and sullied the breed's reputation through their cruel and illegal actions.
But FOTAS and the Shelter are working to help these dogs and reestablish their honorable reputation by prudently preparing them for adoption and finding them loving homes.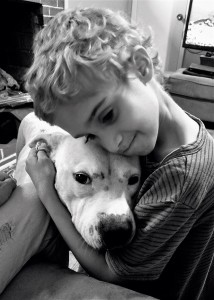 For example, Gloria, a 2-year-old Pibble who arrived at the Shelter scared and shy, was fostered by Darling Rios and her family. At first, Gloria was too scared to leave the house. But slowly she began to trust her foster family and learned to relax and play by interacting with the other dogs living at the Rios household.
"All we did was give her love and provide a place where she felt safe," Darling said. "Gloria built confidence after weeks of attention and came out of her shell."
Once she was put on the adoption floor, Gloria didn't last long. She was adopted by Shannon Wilhelm of Graniteville and is doing great!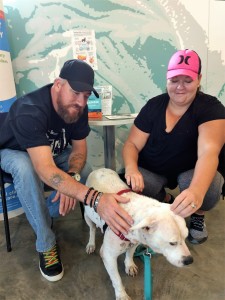 Another Bully mix was adopted by Jude and Kerwin Iglesias of Aiken. They took home one-year-old Doxter, a white and brown cutie who is very protective of his new family. When he thinks they have been swimming for too long, the young dog gets worried and dives into the family's pool, gently gripping them by the hand to pull them out of the water!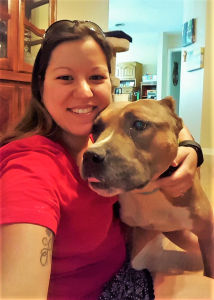 Ripley, a fawn and white Pibble, arrived at the Shelter as a stray and tested positive for heartworms. Bo and Amanda Brown fell in love with the big boy and adopted him, FOTAS paid for his treatment and now he is expected to be heartworm free by next month.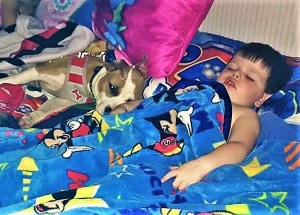 And then there's Claressa, a 10-month-old, tan and white Bully mix. She was shy and having difficulty dealing with the noisy environment of the Shelter. But Brian and Gina Goodwin of Aiken adopted her and turned her life around. 

"At first, she was terrified of everything!" said Gina. "But after about three days, she was a completely different dog. We love her so much and I'm pretty sure she feels the same."
The County Shelter always has some wonderful Pibbles available for adoption, and this week is no exception. Three standouts include Bailey, Ranger and our dog of the week, Toffee. Come visit them!
Their lives are in our hands.
By the Numbers
Jan. through Aug.:
FOTAS organized and paid for the spay/neuter surgeries of 292 community cats and pets owned by citizens in need of financial assistance.
October Adoption Special: Cat and kittens $10, dogs and puppies $35
Pets of the Week