by Bob Gordon, FOTAS Director of Communications
Livie and her sibling were tossed out of a moving vehicle like pieces of garbage. A good Samaritan, driving behind the vehicle, witnessed the hideous crime and slammed on his brakes. He and his wife scrambled out of their car to see what they could do to save the kittens. But as they ran to Livie, a gray kitten, her sibling was run over and killed by a car coming the other way. Horrified, the couple scooped up Livie, blood dripping from her mouth, and sped to the Aiken County Animal Shelter (ACAS).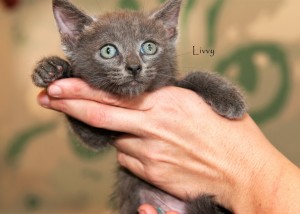 Once at Shelter, Dr. Lisa Levy and her vet techs treated Livie. The left side of her face was scraped badly and her left rear leg injured, but she would be okay. Now, the five-week-old needed time to rest and heal.
Livie is just one of 227 kittens and 8 nursing momma cats that have been received by the County Shelter over the last two months. Some of these kittens are only a couple of weeks old and need to be bottle fed. When they are motherless and so young, they're vulnerable and need constant care and attention – the kind of nurturing they can only get from a devoted foster family. But as fast as FOTAS recruits kitten fosters, more babies in need arrive at 333 Wire Road. Currently, there are 48 kittens being fostered by volunteers.
Because so many kittens have been received lately, ACAS staff members have taken kittens home to ensure their survival. Adoption Coordinator Hillary Clark-Kulis, Vet Tech Betty Milne-Erikson and Adoption Assistant Mary Calabro have all fostered litters of kittens during the last two months.
"I do it because these babies need to be saved," Mary Calabro said. "It's love for the innocent and the love they give back."
Once the kittens are old enough to be spayed or neutered, they go on the adoption floor. But the fosters are needed to help these kittens get stronger and more comfortable with human touch and interaction.
"Without the foster program, many of these kittens wouldn't survive," said Hillary Clark-Kulis. "They are too little to spay or neuter and need constant bottle feeding or, if they're old enough, have to be weaned from wet to dry food."
FOTAS Volunteer Peg Seger and her husband, Ron, have been fostering kittens for two years and their latest assignment is a litter of five one-month-old strays. "If you love animals, fostering is a wonderful thing to do," Peg said.
Jerri Smith just finished fostering three feral kittens for two weeks. By the time she returned them to the shelter for adoption, the six-week-old siblings liked to be held and petted.

"The longer they stayed with me, the less fearful they became," Jeri said. "I enjoyed seeing them progress and it was fun and rewarding to help them learn and grow."

Mindy Hand, another foster standout, just completed fostering three kittens that have since been adopted and is now nurturing and preparing two three-week-old kittens for adoption.
"Fostering takes a lot love and patience," Mindy said. "But it is special knowing these cats are going to find families of their own after you've taken care of them."
With so many kittens flowing into the shelter, FOTAS is in urgent need of more fosters. If you can volunteer, please call 803.514.4313 or send an email to info@fotasaiken.org
With your help, we'll have more success stories like Livie, who recovered from her injuries and was put on the adoption floor on Thursday. Discarded like trash, this beautiful, gray kitten now has a second chance at a good life.
Their lives are in our hands.
By the Numbers

August 10 to October 10: The Aiken County Animal Shelter received 227 kittens and 8 nursing cats.
October Adoption Special: cats/kittens $10, dogs/puppies $35
Pets of the Week