Maybe the most amazing thing about Kira was how ordinary she seemed at first. A stray Shepherd/Boxer mix brought into the Aiken County Animal Shelter in 2012, she was vulnerable and helpless like so many others coming through the door.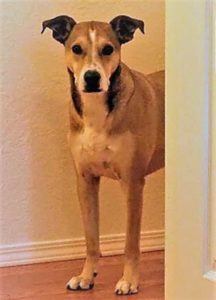 Joseph and Brandie Henry, both U.S. Navy veterans diagnosed with Post-Traumatic Stress Disorder (PTSD), saw her cute face and hoped the 10-month-old pup could help with their daily struggles.
It didn't take long, however, to recognize greatness.
"Kira was something special and rare," said Jerry Lyda of K-9 Veterans Solutions Inc. in Augusta, who trained Kira for the Henrys. "She took to PTSD Service Dog training naturally and fully embraced every role asked of her."
Lyda has trained hundreds of veteran-dog pairs since forming his nonprofit six years ago, pulling dozens from the Aiken shelter. (FOTAS sponsors free adoptions for veterans every month.) Kira is his first service dog death.
Hit hardest, however, are the Henrys. Both Joseph and Brandie depended on Kira to get through the night and wake them from nightmares. She reintroduced them to the society they'd withdrawn from, staying by their side in public places, providing confidence and safety to leave home. When they got confused or overwhelmed, she led them to their car or house. She created safe space and responded to panic attacks.
When the Henrys moved to Nevada, Kira made every transition easier and doable. She kept Joseph and Brandie from falling, using her body as a lift if they did. She accompanied Joseph to his job at Tesla Gigafactory 1. Brandie depended on Kira to socialize and develop friendships – things that had seemed out of reach since PTSD – and mobility issues ravaged every area of her life. Brandie returned to school to study dietetics, an impossible goal before Kira came along.
When son Patrick was born two years ago with health problems, Kira instinctively took on more work without waiting to be asked. She guarded him diligently, alerting the Henrys he was about to choke with a sixth-sense awareness.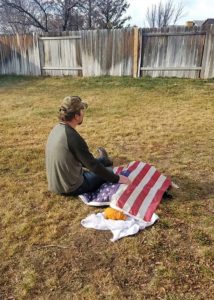 "She's irreplaceable," said Brandie. "Service dogs are trained to help one person, but Kira helped our whole family."
When Kira was diagnosed with a brain tumor last year at age 7, the Henrys were devastated. When she died last month, they were shell-shocked.
"We didn't know what to do," said Joseph. "Then I pulled out my battle field flag that had gone with me on every deployment and returned me safely home — so that we could send her safely home."
Joseph sat with Kira awhile in the backyard, her body under his flag, trying to imagine life without her. Brandie doesn't know if she can continue school, Joseph doesn't know how he'll survive nightmares, and Patrick knows she died but asks for her daily. They had Kira cremated and when Spring arrives, they'll spread her ashes at a nearby beach where she loved to swim.
"She loved us like we loved her," Brandie said. "She'll be impossible to replace."
Our shelter dogs are amazing. Even the most ordinary dog can work miracles for the people who adopt and love them.
Their lives are in our hands.
— By Martha Anne Tudor, FOTAS Volunteer