By Joanna Dunn Samson, FOTAS Vice President
One morning, you come downstairs to the kitchen, turn on the coffee maker, and open the back door to check the weather. Then you hear it: faint, pitiful mewing sounds coming from the crawl space under the porch. You grab a flashlight and go out to investigate. What you find breaks your heart: six tiny feral kittens, eyes still closed, mewing for what? Food? Mama? Warmth?
What do you do?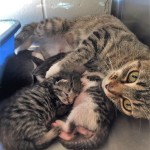 The Good Samaritan in you wants to spring into action and rescue the little snuggle nuggets, but is that the wisest course?
"It isn't, at least not right away," says Hillary Clark-Kulis, the Adoption Coordinator for the Aiken County Animal Shelter. "Odds are mama has gone out to feed herself and will be returning soon to care for her babies, and it is always better for little kittens to be cared for by their mama. She can properly clean and feed them around the clock. We advise waiting and watching for mama to return. Patience is the better part of valor in these cases."
Raising little kittens is tricky business. They need to be fed every two hours around the clock. They cannot eliminate waste on their own, so cleaning and massaging in just the right places is required to allow them to process their food. Mama's milk also provides crucial antibodies. When the kittens are weaned to hard food, mama teaches them how to be little cats, how to fend for themselves, how to hunt.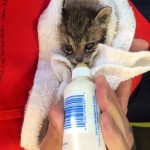 Assuming mama comes home, the best thing you can do is support mama until the kittens are weaned. Provide her healthy cat food and clean water, maybe a box with soft towels for a warm dry place to nest.
Feral cats are often fearful of humans, so speak softly, move slowly, try to befriend her, get her accustomed to friendly human contact. FOTAS can provide you with the appropriate supplies if needed.
After about five weeks, call the Shelter and make an appointment to bring mama in to get vaccinated, spayed and returned to field (no cost to you), and the kittens to be vetted and put up for adoption (unless the kittens are too feral, in which case, they too can be vaccinated, spayed and returned to field.)
Let's rewind: what if you watch the little kittens all day and mama doesn't return, then what do you do?
Now it's time to collect the little kittens and bring them to the Shelter. Dr. Levy will assess their health, then FOTAS volunteers will foster the kittens at home. That means two weeks of bottle feeding every two hours, watching their temperature, keeping them clean until their eyes open and they can eat on their own. Once they pass that critical stage, the little snuggle muffins can be socialized until they are big enough to be adopted.
"Taking proper care of new-born kittens requires skill and patience, but there are experienced FOTAS volunteers we call upon for help," says Kathy Jacobs, FOTAS Program Director. "We couldn't do it without them, and we always need more volunteers!"
Call the FOTAS hotline at (803) 514-4313 or the County Shelter at (803) 642-1537, when your Good Samaritan is called into service.
Their lives are in our hands.
By the Numbers
Jan. to Sept. 2017: FOTAS Fix-A-Pet and the Aiken County Animal Shelter spayed/neutered 864 community/feral cats that were returned to field.
Pets of the Week