By Dr. Lisa Levy, ACAS Veterinarian
To paraphrase Forrest Gump, working at the shelter is like a box of chocolates. Every morning when I make my rounds, I never know what new problem attached to a wagging tail I'm going to get. A couple of weeks ago, two dogs with severe medical problems needing immediate attention were waiting for me at the Shelter clinic.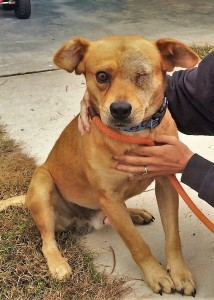 First there was Remington, a beautiful brown retriever-mix with one very expressive eye and one injured eye—the cornea was completely opaque giving it a blue-gray appearance. From the thickness of the scar tissue on the cornea, I knew it was an old injury. Honestly, it made him look "creepy," and I was worried that would turn off potential adopters and affect his chances of getting a new home.
Since Remington was blind in that eye anyway, I decided to remove it to improve his appearance. I was also concerned about the possibility of glaucoma developing, which can happen with any eye injury.
When we sedated Remington, we noticed several BB's under his skin which unfortunately is not that uncommon of a finding. What was unusual is that during the surgery I found a BB in his eye socket. He had been shot in the eye! Remington recovered beautifully and is so much happier since the surgery. His sweet temperament masked the fact that he was in pain, but I am glad that we could make him comfortable again.
I still cannot understand how someone could use a dog for target practice, showing total disregard for them as living, feeling creatures. Educating children on humane treatment of animals is critical. That's why programs like FOTAS's "Dog Ears Reading Sessions" are invaluable. By encouraging children to read to shelter dogs, it not only helps the child's confidence in reading skills, but helps them see the dogs as individuals with personalities and feelings. It's a win all around.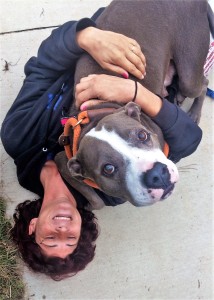 My second unique patient that week was Grace. Grace is an elderly, gray Pibble. The Animal Control Officer who brought her in left a note on the intake sheet: "Vet Please Check!" As I approached her kennel, she greeted me enthusiastically and I thought to myself, "What's the issue?" Until she turned sideways. Then I thought, "Oh my goodness!" There was a large growth hanging off the back of one rear leg. I mean an impressively large growth. It was also very irritated from rubbing on the ground every time she sat down.
When no one claimed Grace, I decided to remove the growth and give her a chance to find a new home. I was concerned about how she would handle anesthesia at her age, but she through like a champ. We weighed the growth after surgery and it weighed two-and-a-half pounds!
Both Remington and Grace tested positive for heartworms, which is common in the South among dogs who are not properly protected. The good news is that we can medically eliminate the heartworm infection, allowing these canines to lead normal, long lives. Both dogs have started their treatment, which is being paid for by FOTAS.
Remington and Grace are awesome dogs and waiting for adoption with a new lease on life.
By the Numbers
November Adoption Special: cats/kittens $10, dogs/puppies $35
Pets of the Week