By Dr. Lisa Levy, ACAS Veterinarian
The Aiken County Animal Shelter has received some amazing donations in the last few months and I am pinching myself to be sure it is real! FOTAS received an email from Lisa and Ken Kasper asking if we would be interested in a slightly used x-ray machine that they were willing to donate. They had heard about FOTAS from Dr. Kathy Bissell, a local veterinarian who was instrumental in starting FOTAS' Trap, Neuter, and Release (TNR) program in the county.
A free x-ray machine! Are you kidding me?
In the past, when an animal needed to be x-rayed, it required them to be transported to a local animal hospital. My previous employers, Drs. John and Jennifer Hurd of Silver Bluff Animal Hospital, were gracious enough to allow me to use their x-ray machine whenever the need arose and never charged anything to do so. Despite their amazing generosity, I felt I needed to pick and choose my cases so as not to take advantage of them.
And there was the issue of transportation. I drive a Mustang, so for a cat or small dog it was no problem. But I could not fit a big dog in a crate in my car. Since I am technically not a county employee, I cannot drive a county vehicle, so a shelter employee (most often Randy Bush, our head kennel technician) had to drive the shelter van.
So now, thanks to the Kaspers, the shelter has its own high-quality digital x-ray machine. They donated the machine, the cassettes, the computer, and even the lead gloves and aprons needed to safely take the x-rays. FOTAS volunteers Peter Miller, Bill Joos, and Dr. Mike Wells drove to Lexington to pick up the equipment. After deciding where to locate the equipment, Paige Baine, head of Code Enforcement, and Bobby Arthurs, Shelter Manager, coordinated with county services to upgrade the electrical system. FOTAS paid for the installation, registration with DHEC, and training.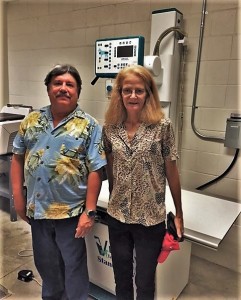 Last week, on the day of installation, I took my first x-ray! It was of a super sweet husky that had been hit by a car. I could feel that she had a pelvic fracture but I did not know how badly it was broken. The x-ray revealed two breaks, but neither involved the hip joint, so she should heal fine with just rest. She will be going into foster care for several weeks to recover before she is adopted.
Also last month we received a donation of an autoclave, a machine that sterilizes our surgical instruments, from Augusta Urology Surgicenter. This was made possible through a connection with Erica Lowe, a veterinary technician at North Augusta Animal Hospital. We had one autoclave which can sterilize four surgical packs at once. Since we started the TNR program for the feral cat population in the county, the number of packs used in a day has doubled – so this donation could not have come at a better time.
I am so grateful for the Kaspers, Augusta Urology, and FOTAS for contributing to the care and well-being of all the animals that pass through the shelter on their way to forever homes. It truly does take a village!
Pets of the Week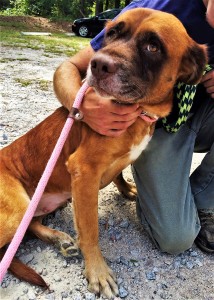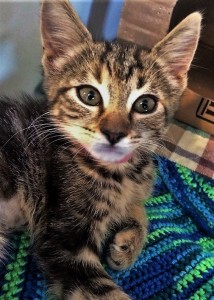 By the Numbers

September Adoption Special:
Cat and kittens are $10, dogs and puppies are $35