by Bob Gordon, FOTAS Director of Communications
I've seen a lot of animals arrive at the Shelter with injuries and handicaps. These animals always stand out – not only due to their obvious physical challenges but also because they seem to be extra sweet and blessed with extraordinary character.
Most of their injuries are caused by neglect or abuse, and sadly I've seen my fair share of stray animals arrive at 333 Wire Road with one eye, a missing tail, or a leg so shattered it must be amputated.
But until a grubby, black and gray fluff ball named Ray came to the Shelter in August, I'd never seen or been around a blind animal. Named after the famous soul singer-songwriter,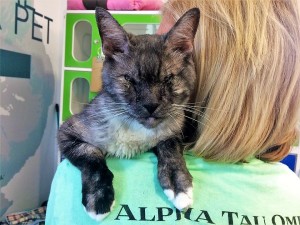 Ray Charles, this 9-year-old stray cat instantly won the hearts of the staff and FOTAS volunteers. Although his eyes are caved in, probably due to a severe eye infection at some point in his life, Ray uses his sense of smell and touch to find his food and his litter box. His favorite activity is to climb on your shoulder and grip you tightly while purring loudly in your ear. Once you sit down, he eventually moves to your lap, begging to be petted some more.
Yes, falling in love with Ray was easy; finding him a home was a bigger challenge. Being a senior cat with no sight, he needed to be with someone who knows and loves cats, and who would spend a lot of time with him. But he also needed to be the only pet since other animals scared him.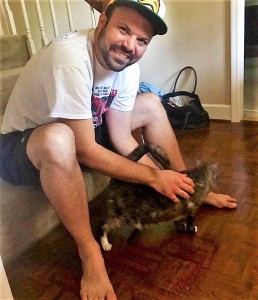 That's when Jonathan Martindale of Evans, GA came to the rescue. Jon's friend, Grace Bellmer, knew he was looking for a cat and she and her mom, Liz, saw Ray's picture on Facebook. Once they shared that photo and Ray's story with Jon, he knew it was a good match. He adopted Ray on August 19.
"Ray's probably the sweetest cat I've ever had," Jon said. "He is just so thankful to have a good home and we've bonded and already have our own routine down."
Part of their routine includes Ray taking naps on Jon's shoulder and stomach when he gets home from his teaching job at Lakeside High School. Ray also likes to join Jon in front of their 55-inch flat screen while he watches sports or a movie on Netflix.
"Ray pretty much runs the place," Jon said. "His handicap really isn't a factor. He moves so well, sometimes I forget he's blind."
When Ray first arrived, he walked slowly around Jon's two-story house and sniffed it out, getting his bearings in the new environment. Now, he seems to have memorized the layout of the home and knows where everything is so he can navigate easily throughout his new digs.
"He's a great companion, a good soul, and I love him to death," Jon said. Even though I've only had him about a month, I honestly don't know what I'd do without him."
Their lives are in our hands.
By the Numbers

September Adoption Special:
Cat and kittens are $10, dogs and puppies only $35
Pets of the Week