By Joanna D. Samson, FOTAS Vice President
It's 9:15 in the morning at the Aiken County Animal Shelter, and two dogs are in the play yard: a female, yellow lab cross named Cheyenne and a young, lanky brindle dog named Hawkeye. Cheyenne and Hawkeye were identified the day before as helper dogs for the morning's play session based on their canine social manners and affability. Two FOTAS volunteers, Caroline Simonson and Darling Rios, are the in-yard handlers in charge of the morning's play session. In the background, Ali Waszmer, Director of Program Development and Lead Trainer, and Kodi Sadler, Lead Trainer, from Dogs Playing for Life, a non-profit organization that teaches shelters how to create and manage play sessions to improve the quality of life for its canine residents, stand by to guide Caroline and Darling through the process.
And so it begins. Ali or Kodi refer to their notes from the previous day's play assessments and begin calling for specific dogs, which are retrieved by a volunteer runner and brought to the gate. Over the next two hours, dogs are moved in and out of the yard or directed to a smaller, adjacent yard depending on their play style and physical condition. At any given time, as many as 15-18 dogs romp, frolic, chase each other around the yard, or watch contentedly from the sidelines.
As the session winds down, Darling, who is now the lead handler in the yard, begins calling for runners to take remaining dogs back to their kennels. By noon, close to 40 dogs–virtually every available dog from the adoption floor and selected dogs from the intake wing–have had an opportunity to play and blow off steam in the yard. An almost eerie silence settles over the shelter as the dogs, happy and relaxed, settle in for well-deserved naps.
"Shelter life is stressful enough for the dogs," says Ellie Joos, the FOTAS on-site event coordinator who organized the 4-day clinic with Dogs Playing for Life. "They are social animals, yet for a whole host of safety and practical reasons they are kenneled separately, and over time, their energy and frustration levels rise. Play groups provide an effective outlet for the dogs to socialize in a controlled setting. Four to six volunteers can satiate every dog's physical and emotional needs in one or two short sessions in a way that walking dogs individually around the property just can't do." She shakes her head and laughs. "The transformation is nothing short of amazing!"
And here's the best part: watching a dog in play group gives staff and FOTAS more information about the dog's behavior, which can potentially broaden that's dog's adoption prospects. Plus, meeting a happy, relaxed dog for the first time is a far better experience than meeting a dog that is frantic from lack of rigorous exercise and limited social interaction.
It's a win-win situation for everyone. How cool is that?
For more information on the extraordinary Dogs Playing for Life program, go to DogsPlayingforLife.org. For more information on, or to participate in, the FOTAS play group training at the County Shelter, contact FOTAS at info@FotasAiken.org.
Their lives are in our hands.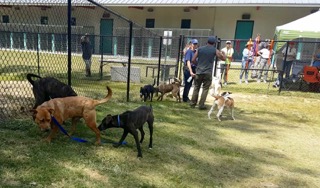 photo above:
Kathy Jacobs, FOTAS Program Coordinator, and Kodi Sadler of Dogs Playing for Life manage a play session at the Aiken County Animal Shelter while other volunteers and spectators watch on.