by Bob Gordon, FOTAS Director of Communications
When FOTAS Volunteer Muf Fuller fosters kittens from the Aiken County Animal Shelter, she has a partner that assists her with this important task.
"We're a team," Muf said. "She's very proud of the work she does with the kittens and I'm delighted that she takes it on as a job. She knows we're preparing them for their next phase – finding and going to their forever homes."
The partner Muf is referring to is Poppy, her two-year-old, black and tan, Standard Poodle. Although Poppy has never had puppies of her own, she's a natural caregiver and enjoys tending to the tiny felines that temporarily stay at her Aiken home. Not only does Poppy play with the kittens and get them to exercise, she also bathes them with her long tongue. If the foster kittens are younger than four weeks old, she even licks and stimulates their bums to help them go to the bathroom.
"Poppy's very adaptable and smart," Muf said. "I'm so grateful to have her. She fills a void in my life after losing my husband – and for that matter, so do the kittens."
Poppy has fun playing with the kittens, laying on her stomach so she's almost eye level with them and entertaining them by pretending to chase them. Once the large poodle has had enough, she just stands up and the kittens happily jump off her.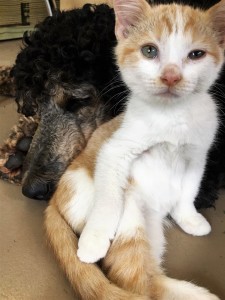 Muf and Poppy have been FOTAS fosters for about a year now and have had many young felines stay with them. But their latest project is Toby, a 10-week-old kitten that is dealing with some muscular weakness and motor skill issues. He needs extra attention and exercise to strengthen his joints, and temporarily getting out of the Shelter is his best chance to gain dexterity and more belief in his abilities.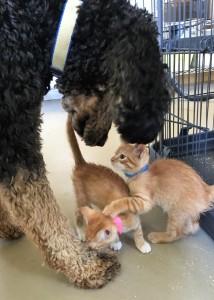 "He's doing better and keeping us busy," Muf says of their latest kitty tenant. "That's what's rewarding and fun about fostering. Helping these animals to be better prepared through interaction with me and with Poppy – and teaching them good behavior – so when they are adopted, they'll be wonderful pets in their forever homes."
If you are interested in becoming a FOTAS foster parent, please send an email to info@fotasaiken.org or call 803.514.4313. The Shelter currently has puppies that need foster care – most of these are individual puppies that were picked up or brought in as strays. Rather than sit in a scary kennel by themselves, these little ones need extra TLC and human attention to ensure they are socialized and grow into good pets.
Their lives are in our hands.
 

 BY THE NUMBERS
Dogs and puppies are half-price ($35), cats and kittens just $10 through July 31.

PETS OF THE WEEK