By Joanna Dunn Samson, FOTAS Vice-President
Late one cold Sunday afternoon last March, a box was left on the sidewalk of the County Shelter, which was closed. In the box were seven puppies, no more than a week old, their umbilical cords still attached. There was no mama dog and no blanket, so when the temperatures dropped to the low 30's that night, the tiny abandoned puppies had no protection from the cold.
By the time the Shelter opened 16 hours later on Monday morning, their little bodies were virtually frozen. Horrified, sad and determined, the staff and volunteers on duty set about the seemingly futile task of bringing the puppies back to life. Jevon Garcia, Shelly Padgett and Mary Calabro cranked up the space heaters and plugged in the heating pads. Everyone huddled together around the heaters, wrapped a puppy in a blanket, gently rubbed their tiny lifeless bodies, and prayed.
God was listening. One by one, minute by minute, the little guys began to show slight signs of life—a twitch of a leg here, a slight tremble there—and soon they began to wiggle and squeak. Staff and volunteers were astonished; the puppies were hungry. The vet techs prepared baby formula, and before long anyone with a free hand was recruited to puppy-feeding duty.
Now the Staff and FOTAS had practical issues to address. Puppies that young need constant care and attention in a controlled environment. They need to be fed every few hours. They need dedicated foster care. FOTAS Program Director Kathy Jacobs took home three puppies, and FOTAS volunteers Laura Burmeister and Amber Carter each took home two.
The puppies thrived in foster care. Over the next eight weeks, Kathy, Laura and Amber watched them grow, open their eyes, teeter around on unsteady little paws, learn how to eat on their own, and develop personalities.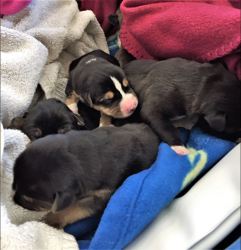 "My family enjoyed our puppies so much," says Kathy. "My son Noah was a huge help, and our family dog took them on as her own, like a surrogate mom. She cleaned them, protected them, herded them around. When they reached the point where they were wrestling, barking and playing nonstop, we knew it was time for us to find them forever homes. We were ready, and so were they."
This story had a happy ending, but happy endings take staff, volunteers, foster families and donations, and the Shelter receives an enormous number of unwanted puppies and kittens during the summer months. Why? Because people do not fix their pets, leaving the rest of us (taxpayers, private donors and the poor animals themselves) to pay for their failure to do the right thing.
The problem will never be solved until every citizen, their family, their friends and their neighbors fix their pets. Aiken County, supplemented by FOTAS Fix-a-Pet, provides vouchers so that folks can get their pets spayed or neutered at no charge.
Spread the word.
In the meantime, be a foster home—FOTAS will pay for the food and provide a crate, training and medical assistance where needed.
And please, please donate—our services would not be possible without your generous support. Visit fotasaiken.org to learn more about the FOTAS Foster Program and financial assistance for spay/neuter through Fix-a-Pet.
By the Numbers
January through May:   FOTAS organized and paid for the spay/neuter surgeries of 248 community cats and pets owned by citizens in need of financial assistance.

July adoption special:

  cats/kittens $10, dogs/puppies $35
Pets of the Week