Benny arrived at the Aiken Count Animal Shelter in poor shape. He was picked up as a stray and had all sorts of strikes against him. The small Beagle was over 10 years old, had a heart murmur, walked with a slight wobble, couldn't hear very well and tested positive for heartworms. Not exactly a dog you expect to fly off the adoption floor.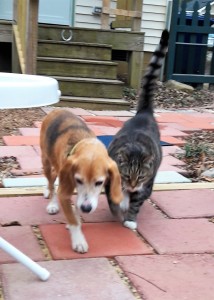 But Benny had one thing going for him: Nancy Wagner. As soon as the Aiken resident and FOTAS volunteer read Benny's story and saw his photo on Facebook, she drove to the shelter to adopt him.
"Benny's so stinking cute, it should be illegal," Nancy said. "When I saw and met him at the shelter, I knew he was the right dog for me." Nancy and little Benny became instant companions and even her 14-year-old cat, Leo, took a shine to the happy Beagle.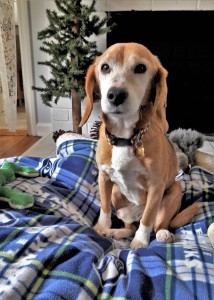 Before adopting Benny, Nancy was struggling with the decision to get a dog. Lily, her 14-year-old white English Setter, died suddenly in October of last year. She'd had Lily since rescuing her from a Pennsylvania shelter in 2006, so the loss was difficult for her to accept.  But she said she got tired of being depressed about Lily's death and when she made a connection with Benny, it felt like the right time to have a dog in her home again.
"I decided to give Benny the best retirement ever," she said. "That's my goal. Whether he's here on this earth for two weeks or for many more years, I'm going to do all I can to make him happy and feel safe. We are just enjoying living in the now and having fun together."
Benny takes long walks two or three times a day and he's already become a pretty big deal in the neighborhood. People enjoy greeting him when he's outside and the neighbors wave to him when he's sitting at his favorite spot in the house, watching squirrels through the front window.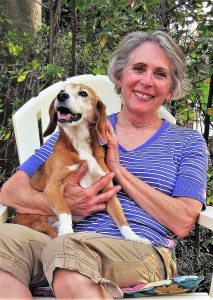 "His needs are few and far between," Nancy said. "He just wants to love and be loved. And being an older dog, he doesn't need any training, doesn't require a great deal of exercise and doesn't get into trouble.  He's easy. That's the thing about older dogs…they've been around the block a few times, and they fit in at your home almost immediately."
Once Benny is more settled into his new home, Nancy is hoping to take him to work with her at Aiken's First Baptist Church, where she serves as financial secretary. Meanwhile, the 17-pound Beagle is receiving treatment to eliminate the heartworms, compliments of FOTAS.
"I love Benny and I think from now on, I'm going to adopt older dogs," Nancy said. "A senior dog is as good as any younger dog but they're quieter, calmer and much less work. They also are sweet and deserve all we can do for them. Because that's what it's all about, isn't it?
Their lives are in our hands.
— by Bob Gordon, FOTAS Director of Communications

By the Numbers

February adoption special: Dogs & puppies $35, cats & kittens $10
Pets of the Week
LIZA

Retriever mix, female, 4 months old, black, 19.5 pounds – $35
APRIL

Domestic Shorthair, female, 1 year old, gray and black Tabby, 5.2 pounds – $10