"You get the love from the kittens and when you see one that you raised get adopted to a good home, it's one of the best feelings in the world," says Fran Bush, explaining the rewards of fostering homeless shelter pets.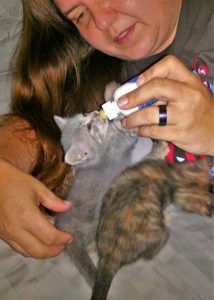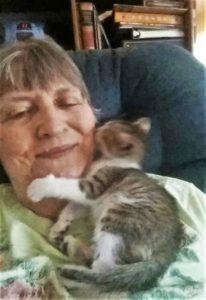 She should know. Fran and her husband, Don, are top volunteers for FOTAS and the Aiken County Animal Shelter (ACAS) and have been fostering kittens and other homeless animals in their Windsor home for many years. Before retiring and volunteering for FOTAS, they owned Booklovers Bookstore in Aiken and customers, knowing their love for animals, would bring the couple strays to nurture and place in homes.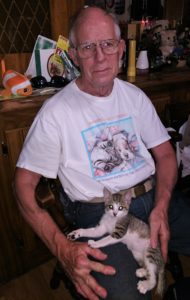 It's a proud family tradition. Fran's mother took in stray cats and taught her how to care for them and Fran's daughter, Angela Poe, and her husband, Derrick, have fostered about a dozen ACAS kittens so far this year – some of them only days old.
"I used to joke to my friends that I had to share my cradle with kittens," Angela said. "But it's what you do…take care of these animals that are helpless on their own."
It's a noble cause and the work of these fosters is vital to FOTAS and the ACAS. While the Shelter provides all the care it can – and extraordinarily committed staff members even take kittens to their own homes for bottle feeding – the flood of orphaned fur babies is too much to handle for any rescue or shelter facility. Until they are at least 3 weeks old, kittens must be bottle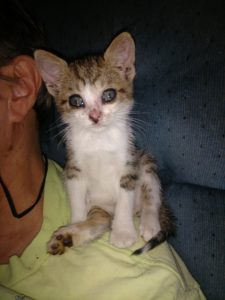 fed every two hours and manually stimulated to defecate and urinate – and they must be cared for 24 hours a day. If the kittens are brought in with their momma cat, she can take care of these tasks. But most litters arrive at the shelter without their mother and the kittens need nourishment and care. Older kittens need fostering, too. Before being put up for adoption, they must be socialized and learn to trust humans.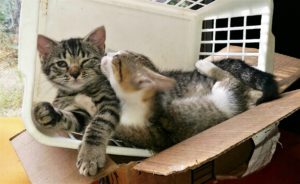 Fran and Don have fostered four litters of kittens in the last year, but they also take in "singlets" or kittens that are found alone. Recently, they saved a kitten named Nuka. Nuka was just 2 or 3 weeks old when he was found on the side of the road, weak and suffering from a sever upper respiratory infection. He also had difficulty standing on his own. Fran took in the kitten and the ACAS gave him antibiotic to treat the infection. His condition was touch and go, but eventually he recovered. The probable scenario is that Nuka's back leg was injured when he was dumped from a moving vehicle.
"We are so grateful that Fran and Don stepped up to save this kitten's life," said ACAS Adoption Coordinator Hillary Clark-Kulis. "They gave him the one-on-one, 24-hour care needed to recover from his illness and injury."
Now, Nuka is happy, healthy and best buddies with Mischief, another foster kitten saved by Fran and Don.  But with more than 200 strays and surrendered pets arriving at the shelter in just the first two weeks of June, it won't be long before another kitten arrives that desperately needs their help.
If you can help foster for FOTAS, please call (803) 514-4313.
Their lives are in our hands.
By the Numbers
From June 1-14, the ACAS received more than 200 strays and surrendered pets.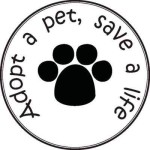 Pets of the Week
PHANTOM
Mixed breed, male, 2 years old, black & white, 50 pounds – $35
PENNY
Domestic Shorthair kitten, female, 2 months old, orange/white Tabby, 1.5 pounds – $10