Fostering dogs is like being a camp counselor. Every couple of weeks new friends arrive. Dogs that stay from five to seven days become more social, more trusting because they are cared for and loved.
How does fostering work? We went to the Aiken County Animal Shelter and a FOTAS volunteer gave us a tour. We filled out the paperwork and received information on the program. FOTAS funds the transfer to out-of-state rescue agencies for animals that are not locally adopted. When there is a transport scheduled, an email goes out to all potential foster homes. If it is convenient that week, I agree to foster and make arrangements to pick up the foster dog. The volunteers provide me with a leash, a crate and dog food.
What if I can't foster that week? There is no obligation. We only reply when we will be available. Sometimes the dogs come for only four nights—taking a foster dog even for a few days not only helps the dog but makes room at the shelter for the intake of new animals.
Where do the dogs stay? Our home is not set up for dogs, so every night they sleep in a quiet stall next to our house with soft blankets, towels and rugs, and plenty of water. In winter the stall is equipped with a ceiling heat lamp, and in summer, a screened window and fan—far cozier than living in a ditch by the side of a highway or a noisy kennel. When we let them out in the morning, their joy is boundless. They are so happy to see us, they follow around the walled yard and romp all day.
Do we get attached? Of course, but in a different way. When we pick up the foster dog, we know they are going on transport to a forever home. The places they travel to in the north have strong spay and neutering laws, so there are very few adoptable animals. Every transported dog is adopted—100%.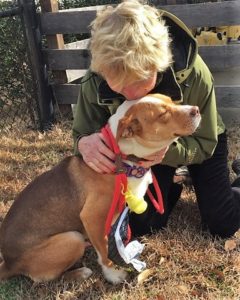 How do we prepare them for transport? I write up a "profile" on the foster dog. I include whether they are housebroken, walk on a leash, play well with other dogs and/or children. Some of the fosters are older and would be a perfect companion for a person who sits and reads. Others are young and would love a family atmosphere. Still others are socialized with other dogs and are welcome additions to a family who already has a pet. Just like Internet dating, matching is important!
Why foster? The animal shelter has taken in 545 homeless animals in less than 30 days. Some dogs are doubled-up in their kennels. Imagine being doubled-up in a twin bed! The relief fostering gives is a quieter atmosphere, which calms and socializes the animals before their forever home transport.
Greg and I lead busy lives and we travel often, so we are not able to have our own dog anymore. Fostering gives us all the delight of a companion dog and the satisfaction of knowing we made a difference in a dog's life. We are grateful for the walks, the antics, the licking and the love.
For more information on fostering, contact FOTAS at info@fotasaiken.com.
Their lives are in our hands.
– By Betty Ryberg, FOTAS volunteer and foster
By the Numbers
The adoption fee for cats and kittens at the County Shelter will be waved from Monday, June 25 to Tuesday, July 3. FOTAS is participating in Best Friends' national adoption promotion to offer this $0 deal.
From June 1-20, the County Shelter received 317 strays and surrendered pets.

Pets of the Week
JOEY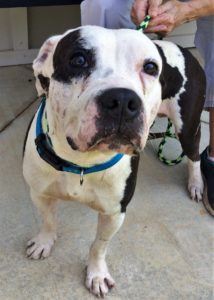 Mixed breed, male, 4 years old, black & white, 50 pounds – $35
NADIA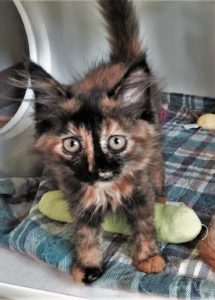 Domestic Medium hair, female, 2 months old, Tortoiseshell Tabby, 1.6 pounds – $10