Over the last 16 months, FOTAS Volunteer Leah Holt has given three unwanted cats the happiness and security that comes with having a forever home. She adopted all three from the Aiken County Animal Shelter (ACAS), including Boots, a young, scrawny black cat; Footie, an 11-year-old, chunky Tuxedo cat; and Nutmeg, a six-month-old, blind Siamese kitten.
"When I retired and moved to Aiken, I made the decision to take care of animals and devote my time to making their lives better," she said.
Boots and Nutmeg were strays, and Footie was surrendered by his owner because taking care of the large feline was "too much responsibility." Holt gave Boots to her great granddaughter, who immediately changed his name to "Black Tiger", and Footie and Nutmeg live with Holt and her two toy Poodles, BJ and Chrissie.
The quartet of furry friends sleeps on Holt's bed. Footie dozes by her head, Nutmeg curls up between her stomach and knees, and the dogs are on either side of her, snoring under the covers. "I have to be careful when I roll over," she jokes.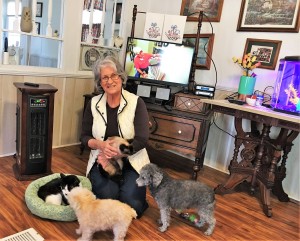 Before retiring, Holt managed a drug store, co-owned a wholesale food franchise with her husband and, during the last 15 years of her working life, took care of hospice patients.
Holt has been around animals and owned pets since she was a child. But when her dog, BJ, was nearly killed by a motorcycle in 2014 and she committed months toward nurturing him back to good health, she came to a new realization.
"That's when I understood how I could have a positive impact and make a difference by helping animals, "she said. "That's what we're put here for –to help those in need."
Now Holt volunteers at the shelter by walking the dogs and spending time with the felines in the cat facility, and every Saturday evening she takes care of the ACAS cats being showcased at the Aiken PetSmart Store on Whiskey Road.
Her reward for volunteering? Seeing unwanted and discarded animals placed in good homes. Plus, when she returns to her house at the end of the day, she gets a boisterous welcome from her growing gang of adopted pets.
"I think shelter animals truly appreciate their home more," she said. "In the shelter they're scared and confused. But when they come out, they don't have to worry so much, and they're very thankful for another chance at a joyful life."
Their lives are in our hands.
by Bob Gordon, FOTAS Director of Communications
By the Numbers
In 2017, 198 Heartworm Positive dogs received at the shelter were saved and successfully adopted with incurred treatment costs paid by FOTAS. Please remember to give your dogs monthly heartworm preventative.
Pets of the Week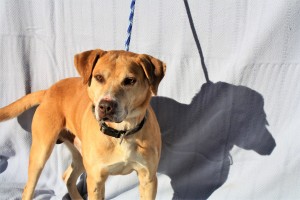 BAIN: Retriever mix, male, 4 years old, tan and white, 51 pounds – $0 (adoption fee has been paid for by FOTAS donor)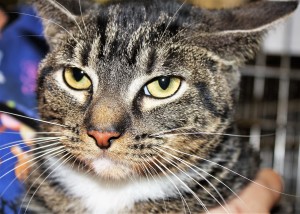 SAPPHIRE: Domestic Shorthair, female, 9 months old, gray/black Tabby, 1.8 pounds – $10 (available at PetSmart Store in Aiken)