by Dr. Lisa Levy, ACAS Veterinarian
This month, we've already taken in more than 300 strays and surrendered animals at the County Animal Shelter. Last month, we took in more than 500. When you receive this many animals, some are certain to be injured or abused, and May was a rough month for kitties. We had several special needs cats come through our doors.
First was Rose. Rose came in just as I was leaving for the day. She was listless, weak and her back end was covered in pus. On examination, it was determined that she had a severe uterine infection, also known as pyometra. These animals get very sick as the uterus fills with pus and causes them to become toxic. The only treatment is surgery to remove the uterus. But obviously there is great risk to doing surgery on a patient that is so ill.
After I graduated from veterinary school, my first boss had a saying that has stuck with me. He said, "Never let the sun set on a pyometra." What he meant is that surgery needs to be done immediately because they will be sicker in the morning. So, I put my scrubs back on and immediately did the surgery. She made it through anesthesia and we gave her fluid therapy and antibiotics, although I had little hope that she would make it through the night. But when we came in the next morning, she was sitting up in her cage! She got stronger each day and showed us a gentle, loving personality that wasn't evident when she was so sick.
Stump is a kitty who was brought in by a couple who found him tied to a tree. His tail was gone (either cut off by someone or possibly ripped off by a dog) and he had exposed bone sticking out of a mound of raw, infected tissue about two inches in diameter. My first thought was, "I can't fix this." But amazingly, once the bad tissue and bone was trimmed away, there was enough skin left to close the wound. Now the big question was would there be nerve damage that might interfere with his ability to urinate and defecate? The next morning, there was no urine in his litter box and he was straining and not able to defecate. We put him on kitty laxatives and within two days he was going on his own.
Aimee came into the shelter with a rear leg that was severely deformed. It had been broken at some point and healed without being set properly. She was unable to bend at the knee and the lower part of the leg pointed in the wrong direction. Unfortunately, there was no way to fix the leg, so we amputated it. Aimee adjusted beautifully since she really couldn't use the leg before the surgery, and is doing terrific!
It was a trying month but all three cats were adopted and are doing extremely well. Great outcomes like these are why we – the entire shelter staff and volunteers – do what we do.
Next Week: How these special needs cats are making a difference in their adopters' lives.Caption: Stump arrived at the Shelter with his tail cut or ripped off, but he is doing great following surgery.
Pets of the Week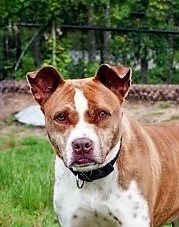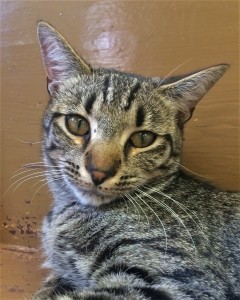 BY THE NUMBERS
May 1- 31:  580 dogs and cats were received by the County Shelter.
June Adoption Special:  Cats $10.00 and Dogs $35.00