by Bob Gordon, FOTAS Director of Communications
We've all heard and read the negative comments about today's youth. Kids are lazy these days! They're more interested in their iPhones and video games than the world around them. They're not as engaged with society and care more about taking selfies than reaching out to others.
But despite such negativity and the glut of news stories about today's children being more selfish, we are not seeing it. In fact, just the opposite. More kids than ever are donating time to the shelter and FOTAS has received a wave of donations from children who want to do something special for the homeless animals at 333 Wire Road.
In many cases, the kids leverage their birthdays to raise donations for the animals. Seven-year-old Marli Cook is a great example. Rather than receiving traditional birthday presents, she asked her party guests to instead bring animal food donations. Ten-year-old Christina Proctor did the same. So did Harper Still on her fifth birthday.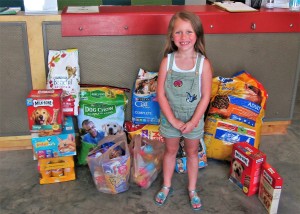 Audrey Dietzel even hosted her eighth birthday at the shelter last year and did the same on her ninth birthday, donating all of her cash gifts to the animals. Thanks to her asking for donations and the generosity of her party guests, FOTAS received $300 from Audrey last Saturday.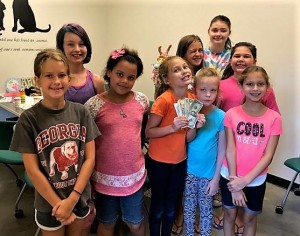 "We gave Audrey other options for parties – the girly spa, a pool party, Air Strike, the Great Wolf Lodge – but she loves the animals and the shelter," said Audrey's mom, Wendy. "That's where her heart is right now."
Most recently, three very young but enterprising friends from Wagener sold lemonade and used the full $100 they raised to buy food and other goodies for the shelter's animals.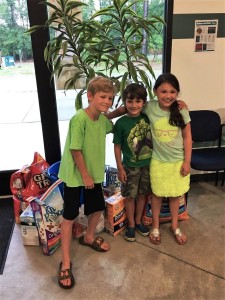 Eight-year-old Hayden Collum and his 6-year-old brother, Colton, joined their 6-year-old pal, Natalie Tyler, to raise money for the FOTAS donation. Natalie asked for a lemonade stand on her birthday and her mother, Nikki, obliged.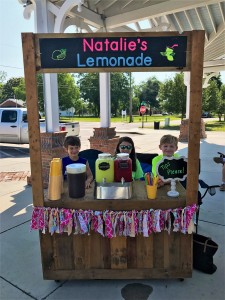 "As a parent, I think it's important to get the kids out there doing something besides playing video games and watching TV," Nikki said. "Learning responsibility is important and Natalie enjoyed working and giving goodies to the shelter animals."
The three kids had a great time and informed their customers that all the proceeds from the lemonade sales were going to FOTAS.
Lynn Collum, Hayden and Colton's mother, always encourages such altruistic actions from her boys. "A lot of kids have enough these days," she said. "In my family, we were taught to give back to the community and raise money for other causes."
Children don't always wait for their birthday to give money or food to the animals. Nancy Bates and her two daughters Rheney, 10, and Robbie, 7, donated $120 to FOTAS when they adopted Cotton, a beautiful cream-colored kitten. The girls donated $60 of their own money to the Shelter animals, and their mom matched their donation.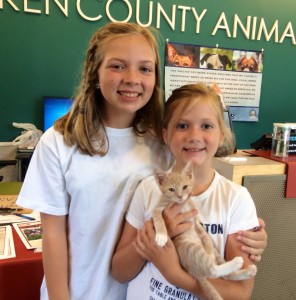 Thank you to all the children who have been so generous to FOTAS and the Shelter animals this year! With the large intake of animals each month, these donations are crucial to the well-being and comfort of the felines and canines forced to spend time in the County facility. To donate to or learn more about FOTAS, please go to FOTASaiken.org.
Their lives are in our hands.
BY THE NUMBERS
In the first week of August, the County Shelter received 186 animals.
PETS OF THE WEEK