Dr. Lisa Levy, ACAS Veterinarian
Three years ago, a small, scared, black dog came into the shelter. Her right rear leg was missing below the knee, leaving the end of the broken bone exposed. She also had a deep scar around her neck from a past embedded collar. Normally she would have been euthanized, but something about her touched me. This dog never had a chance to be loved. I decided to surgically amputate the leg for proper healing, and then adopted her myself. I named her Trinity and she is the happiest little dog I have ever owned. She makes me smile every day.
So I obviously have a heart for three-legged dogs, but this month has been exceptionally trying. In the three years I have been the shelter veterinarian, I have amputated nine legs prior to this month, including one from a dog that was adopted by one of our veterinary technicians. But in just this month, I have had five dogs that needed amputation for various reasons.
First was Jerry Lee, a Coonhound who suffered a gunshot wound that shattered his front leg below the shoulder. He healed beautifully and was quickly adopted. Next was Rouge, a Terrier mix. Her front leg was broken in several places and she had sustained some nerve damage. She did well with her surgery, but unfortunately she also has mange. She is being treated for that but it has delayed her adoption for a few weeks.
Tallulah came in with a broken rear leg that resulted in a severe infection in her hock joint. The joint had swollen to grapefruit size. Despite antibiotic treatment, her condition did not improve and her leg had to be amputated. Tallulah was adopted within hours of being placed on the adoption floor.
Chance is a 10-month-old Pit Bull mix. His rear leg was broken just above the knee. X-rays showed the fracture to be several weeks old and it was never properly set. This resulted in what is called a "non-union". The bone tried to heal but the ends were not close enough to allow them to bridge properly. After his mandatory 5-day hold, his leg will be amputated as he is unable to stand on it.
Finally, upon arrival at the shelter Monday morning I discovered a dog that came in over the weekend looking much like my Trinity. She is a very happy Pit Bull mix but her leg was severed below the knee and the bone was protruding. She was probably hit by a car, or maybe she was caught in a trap. By the time you read this, her leg will be amputated, too. She will be available for adoption after her recovery.
Just a few years ago, all these dogs would have been euthanized. However, since FOTAS has purchased a gas anesthesia machine, we are now able to do longer surgeries safely and can save these dogs (and cats, too). Each of these surgeries can take up to 90 minutes in addition to our normal daily surgery schedule. But with the abuse or neglect these animals have suffered, it only seems fair and right to give them a chance to find a loving home. Just like my Trinity.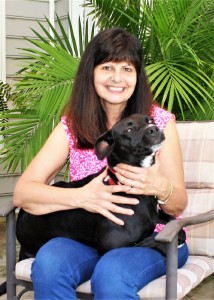 BY THE NUMBERS
In August, cats and kittens are just $10, dogs and puppies are half-price ($35).
PETS OF THE WEEK