Sandra Procter, one of FOTAS's first volunteers, was walking her favorite dog, Stanley, on the Aiken County Animal Shelter's trails this week. She stopped to pet Stanley and praise him for his good behavior.
As she enjoyed this warm moment with the young Retriever mix, Sandra looked around her and saw something that really touched her – four other volunteers enjoying similar quiet moments with shelter dogs.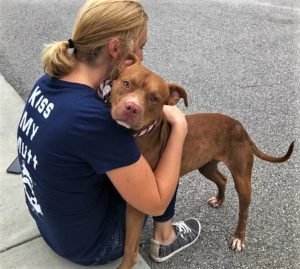 Jeff Martin had Choco on the trail and was petting and reassuring the handsome Doberman mix; Jeff's wife, Bonnie, was hugging sweet Bulldog mix, Princess; and Jackie Edel was sitting on a bench, loving on petite Beagle mix, Suzette. Meanwhile, John Berk was gently loading Carter, a red Shepherd mix, into his car for a "Doggie Day Out" to Starbucks. No one was actually walking; they were each giving their shelter dogs some quiet time, love and affection – helping them to learn trust.
Often people think they can't walk dogs because it will be too physically demanding. There are some dogs that do need a lot of exercise and time to run, but so many others would much rather sit with a person on a bench or a couch, and be loved. Hours are spent in their kennels each day, some only getting out for half an hour. They are lonely. Dogs are companion pets, "man's best friend".  They crave love from people.
Our shelter cats also need volunteers to sit with them, pet them, talk to them. There is nothing better than bringing a book and sitting on the bench in the cat facility. Within minutes, you will have furry friends curling up with you.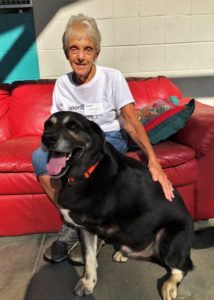 Joanne Goble came to us as a new volunteer. She had trouble getting some of the more excitable and larger dogs out of their kennels. But other volunteers were happy to help get the dogs out for her if she would just pet the lonely animals and spend time with them. Joanne is a great dog walker but an even better dog lover. She also gives the best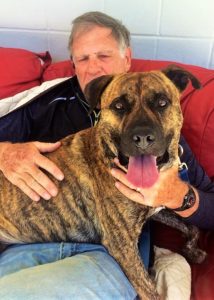 belly rubs, according to Charlie, a senior three-legged dog who would much rather sit by Joanne on the couch than take a long walk on the trails.
"Being at the shelter walking the dogs and interacting with the other volunteers has helped me more than anything else since my husband's death in February," Joanne said. "I just need to know my size limitations on which dogs I should walk."
"All I would say to a prospective volunteer is, for me, being at the shelter makes everything right with the world," she added.
Dogs and cats give us just as much love as we give them. If you are struggling with stress, anxiety, loss or just feeling lonely, you will benefit from spending time with shelter pets. Hug a dog or a cat, spend time interacting with a pet and you will both feel so much better!
Their lives are in our hands.
— By Kathy Jacobs, FOTAS Program Director
By the Numbers
The County Shelter received 493 strays and surrendered pets during the month of August.  In the first five days of September, the shelter received 52 animals.

Pets of the Week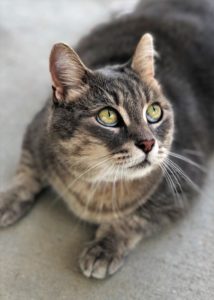 CASS
Domestic Medium haired cat, female, 4 years old, 14 pounds – $10 (available at Aiken PetSmart store)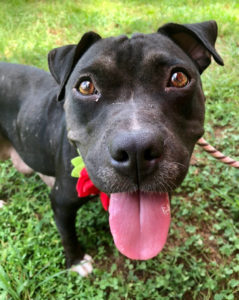 PRINCESS
American Bulldog mix, female, 4 years old, 47 pounds – $35