Hi! I'm Mason, a resident at the Aiken County Animal Shelter. Actually I've been here a very long time, and that's a bad spot to be in, particularly now that summer's here and the shelter is packed. Last month, 545 animals came in to the shelter. 545! That makes me mad, all those homeless dogs, cats, puppies and kittens.
Jeez, people, can you fix your animals already? This is ridiculous!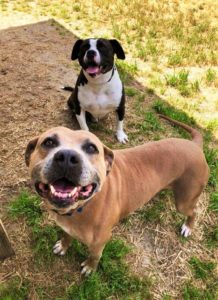 Sorry, I digress. Like I said, I've been here a long time, and although I've never in my whole life had two great meals a day, a safe place to sleep, someone like that nice Doc Levy to keep me healthy, and lots of great pals who call me Mason the Magnificent (seriously, I never even had a name before!), I need to find a home—pronto!—so the shelter can take care of all those other deserving animals.
Plus, I admit it. With all the heat and noise and barking, I get a bit cranky from time to time, and maybe it's my imagination, but I think my volunteer friends look really sad when they look at me. Whoa. That makes me nervous.
So, I decided it was time to take things into my own paws, maybe post my profile and handsome mug on one of those doggie relationship sites, like DogMatch.com or CanineCuddle.com. I recruited my really great chum Kathy Jacobs (the FOTAS Program Director) to help me write just the right words to convince someone to adopt a big, squishy lovebug like me.
Kathy and I sat out on a bench in the shade with a few treats for brain power and kicked around some ideas. I thought something like "Meet Mason the Magnificent—a beast in the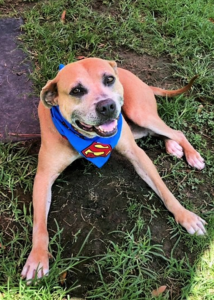 kitchen!" or "Looking for a friend to share meaningful roll in dead squirrel" would be catchy intros, but Kathy kyboshed those ideas right out of the gate.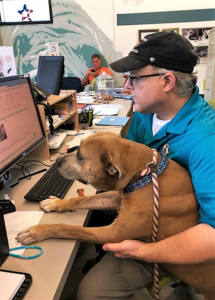 Then I posed for some photos—this way and that, front, back, sideways—to catch my best side, maybe make my head look a little less square. But here's the thing: I gotta square head, plain and simple. A handsome square head, if I say so myself, but no way I look like some retriever or lab-mix.
Finally, after lots of back and forth, here's what we came up with:
Hey all you hungry-for-canine love folks, if you're looking for a two-year old hunk-a-hunk of burning love, I'm your guy.
If you're the kind of person that likes romantic walks, cuddling on the couch, and a great pal to ride in the car with you, I'm your guy.
If you're looking for a pal who's housebroken, healthy, walks on a leash, and knows basic commands, I'm your guy.
By the way, did I mention that adopting me will cost you NOTHING nada, zip, thanks to the generosity of my great pal, Thomas Baker, who is sponsoring my adoption fee?
Oh, and Kathy says to make sure to tell you I have to get out of the shelter–soon. I hope that doesn't mean what I think it does.
So please, come to the county shelter and take me home, for FREE, as soon as you can! You won't be sorry.
My life is in your hands.
— By Joanna D. Samson, FOTAS Vice President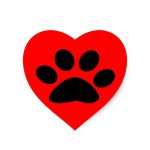 By the Numbers
July Summer Adoption Special: dogs and puppies $35, cats and kittens just $10.
July 1 – 5: The Aiken County Animal Shelter received 71 strays and surrendered pets.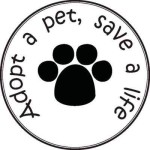 Pets of the Week
ELAINE: Retriever mix, female, 3 years old, yellow, 52 pounds– $35
EDISON: Domestic Shorthair, male, 3 months old, black & white Tabby, 1.7 pounds – $10