Last Monday, I returned to the Aiken County Animal Shelter after my one-week summer vacation and was stunned and dismayed at the number of animals that had been taken in by the shelter in just seven days. Summers are always a crowded time at the County Shelter, but this was something else altogether. Even more heartbreaking was the condition of these poor animals.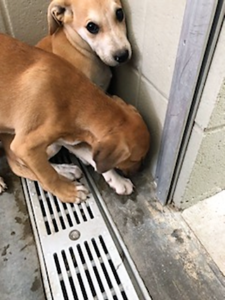 I am an optimist by heart, but my heart tells me that no animal deserves the kind of abuse or neglect that these animals have suffered.
I knew that on Friday, two mother dogs, each with large litters of puppies, had been brought in after being abandoned. I hadn't been at the shelter two hours on Monday before an animal control officer picked up four beautiful Retriever-mix pups found wandering in the street—two of those puppies' ears had been hacked off before they were dumped on the street. They were shaking and cowering, afraid to be touched at first. But like all puppies, they responded quickly with a little kindness and soft touches.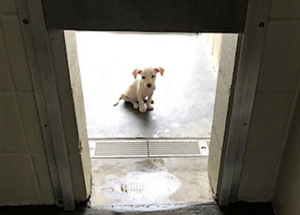 Dogs are so much more forgiving than people, aren't they?
Later in the day, a man surrendered five dogs to the shelter and informed the intake receptionist he was bringing in five more the next day! Our intake was full, so the staff had to 'double up' the kennels. One of the dogs was so scared, it could not stop vomiting while two younger ones huddled in a corner, shaking and terrified, trying to disappear. We gave them all a toy, a meal and lots of fresh water. Staff and volunteers tried to comfort them, calm them down, but there was only so much they could do before moving on to take care of all the other animals in the shelter.
While we were caring for those animals, three more dogs with four puppies were picked up at a local park where they had been dumped; all were hungry and thirsty and covered with fleas. Then, one of the animal control officers came rushing in with a lovely senior dog with a mangled leg. She had been hit by a car.
As if this day couldn't get any worse, a brown Shepherd arrived with an injured leg and paws burned and raw from the hot pavement. He was covered with fleas and smelled of his own urine. I brought him a soft bed, but all he wanted was to be held and comforted.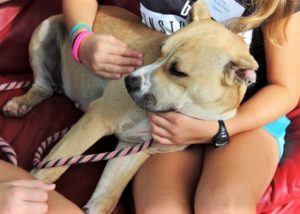 The list goes on and on: the sweet Lab with a broken paw; the big teddy bear-looking dog whose tail had been cut off; the adult dog with horribly chopped-off ears; scores of sick, tiny kittens with runny noses…
Unbelievable, and so unnecessary. These animals are victims of insensitive people who don't fix or care for their pets and dump the responsibility for their care on the rest of us — the taxpayers.
Why is it important to foster a pet for a week? To donate time or money? To adopt from the shelter? Because these animals deserve it. They need you. We need you.
Their lives are in our hands.
– By Kathy Jacobs, FOTAS Programs Director

By the Numbers
July 1 to July 25: The Shelter received 434 strays and surrendered pets.