Dogs, cats, puppies and kittens are surrendered or abandoned to the shelter every day. These animals, through no fault of their own, are blindsided by a change of life that can have a dramatic impact on their emotional and physical well-being.
FOTAS and the shelter immediately act to make sure these animals can not only cope with their new situation but ensure that they will have a fantastic future. Often that requires a foster home to provide a temporary, stable environment that prepares the pet for its future home. FOTAS provides these dedicated foster families with food, crates, and anything else they need to care for the animals.
For example, Max was surrendered missing most of his fur because of a non-contagious skin condition called Demodex. The condition is made worse from malnutrition and stress, but the pet is adoptable once it receives extra TLC and regains its coat. Peggy Babineau and her husband, their children, and five dogs have fostered many shelter canines. The Babineaus fostered Max for three weeks, and his black and white shiny coat grew back.
Happier and more confident, Max was immediately adopted and his new family sends continuous notes, thanking the shelter for their perfect pet. We currently have two dogs just like Max that need foster homes, so they can experience the same results he did.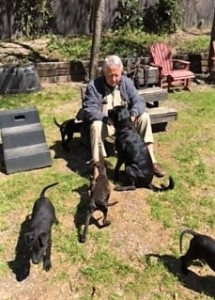 Too often the shelter receives many unwanted or abandoned terrified puppy litters that are motherless and homeless. When four to six puppies are crammed into a shelter kennel before they are old enough for adoption, they can shut down or become fearful. Enter lifesaver John Dabney. He converted one of the stalls in his barn to house foster puppies. They play with John's dogs and he gives the pups love. After two weeks with John, the puppies were returned to the shelter, where they were all adopted within one to three days.
Then there is Birgit Derrick, one of FOTAS's original fosters.  She often takes two adult dogs that play together.  Many times these dogs are scheduled to be transported to a sister shelter where they have forever homes waiting for them. When Birgit fosters two dogs for 5 to 7 days, it opens two kennels, giving a safe place for new arrivals coming into the shelter.
"To give an animal a safe place is so rewarding", says Birgit. "They look at you with such appreciation, they sleep so soundly and they will know that their next home is a safe one because you taught them that."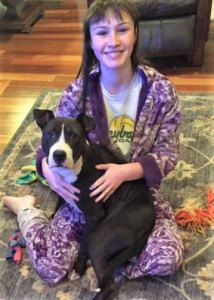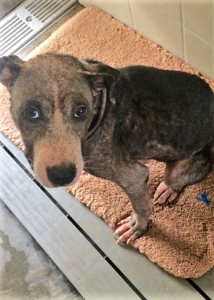 "The difference that I have seen in animals that were fostered is incredible," she adds. "They come to the shelter lost, confused, and afraid. But after being in a foster home, they return to the shelter without fear or anxiety, and they're home ready."
Huge thanks to all our fosters who have opened their hearts to the homeless pets of Aiken County. The shelter received 4,907 animals last year, so we urgently need more fosters to join our life-saving team. Call the FOTAS Hotline, (803) 514-4313, if you are interested in fostering to help save lives. You too can be a hero.
Their lives are in our hands.
– By Kathy Jacobs, FOTAS Programs Coordinator