FOTAS urgently needs volunteers to foster shelter animals.
Spring has officially arrived, so a wave of homeless puppies and kittens is heading our way. We've already received some stray momma dogs and cats with their little ones, as well as orphaned pups and kittens found all alone. These babies need temporary homes where they can be loved and nurtured until they are ready to be adopted and find their forever homes.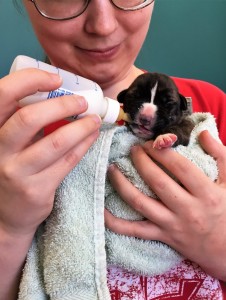 "Fosters make it possible to save the lives of these homeless puppies and kittens," said Hillary Clark-Kulis, the Aiken County Animal Shelter's (ACAS) Adoption Coordinator. "Without their dedication and help, too many of these animals wouldn't make it to the adoption floor."
As wonderful as the County Shelter is, it is no match for the comfort and special attention even a temporary home can provide. A home environment is less stressful and safer from potential illnesses that can compromise an infant animal's developing immune system.
"If a puppy doesn't get fostered, it is more likely to become ill from kennel cough or other illnesses," explained FOTAS Programs Coordinator Kathy Jacobs. "If they don't get the nurturing they need, they can become fearful and timid, and it affects them the rest of their lives."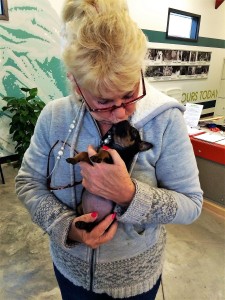 In addition to the pups and kittens that need fostering, the shelter has adult dogs that require extra care from volunteers. These are animals recovering from injuries, skin conditions and psychological trauma. They aren't yet ready to be adopted, but will recover much faster in a temporary home. For example, the shelter has several dogs recovering from Demodex, a non-contagious skin condition that is usually caused by stress. In a shelter, it typically takes about eight weeks for a dog to recover from Demodex. In a foster home, the recovery time is cut in half.
"The FOTAS Foster Care system not only ensures the animals are raised in a healthy environment, it frees up limited space in the shelter for other adoptable animals," said FOTAS President Jennifer Miller. "If you can foster for even a week or two, please consider it. FOTAS will provide the food and other supplies you may need for the animals."
To become a foster parent for dogs or cats, please call (803) 514-4313, send an email to info@fotasaiken.org. or come to the shelter at 333 Wire Road.
Their lives are in our hands.
— by Bob Gordon, FOTAS Director of Communications

By the Numbers
March Adoption Special: Dogs/puppies $35, cats/kittens $10

Pets of the Week

KERI
Mixed breed, female, 2 years old, brown, 44 pounds – $35

ALVIN
Domestic Shorthair, male, 3 years old, orange & white Tabby, 10 pounds – $10