I recently faced my most challenging case since I started working at the shelter.
Biscuit was a "neighborhood dog." The woman who brought him in said he showed up every few days and she would feed him. She had not seen him for three days when he showed up that Tuesday morning. She called the shelter in distress thinking he had been shot in the head. When she brought him in, I examined him and determined he had not been shot but had been attacked by another dog.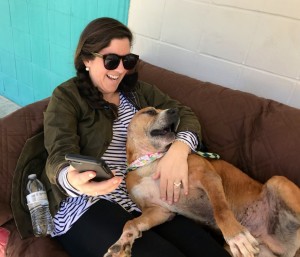 His wounds were extensive. The damage to his right ear was so severe that the entire ear flap, as well as a large area of skin around the ear, had actually died. Infection had also set in giving off a terrible odor. I have been in practice for more than 30 years and very little can still gross me out. But this smell was so bad, we had to keep the doors to the clinic open to let in fresh air. Through all of this, Biscuit sat on the exam table wagging his tail. I wasn't sure I could save him, but I was going to try.
Surgery was challenging. All the dead tissue needed to be removed, leaving a huge open area that was extremely difficult to suture closed. I was able to close most of it, but it remained to be seen how it would heal. We kept him on antibiotics to fight the infection, and over a period of about three weeks the wound did heal! It wasn't pretty, but it healed.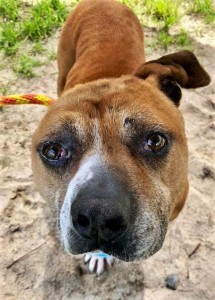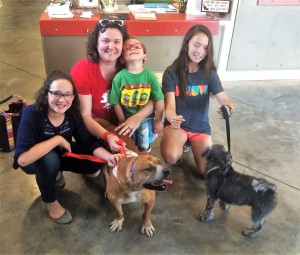 During Biscuit's recovery, we noticed that he held his right rear leg out to the side and limped a little. X-rays revealed that he had an old fracture of his femur just above the knee that had not been treated and therefore didn't heal properly. There was also some degeneration of his hip joint. These injuries are consistent with being hit by a car. Unfortunately, he also tested positive for heartworms, an all too common occurrence for strays in our area.
One thing that stood out to me about Biscuit is that when he came into the shelter he was already neutered. That means he belonged to someone. At some point he was somebody's dog. How did he end up like this? Was he lost? Was he abandoned? Did someone try to find him?
Through it all, Biscuit has shown an amazing spirit. He loves everyone, is ecstatic when we pet, or even better, scratch him, and his tail never stops wagging. He may not be the prettiest to look at, but he is truly one of my favorite dogs ever to come into the shelter. He deserves a great home, and we will do everything we can to find it for him.
Epilogue: Shortly after Dr. Levy submitted this column, Biscuit was adopted by an Aiken family. He is enjoying a fresh start at his new home with a small poodle mix named Bear. As with all adopted heartworm positive County Shelter dogs, FOTAS is paying for Biscuit's treatment through its "Have a Heart, Save a Heart" program.
 – By Dr. Lisa Levy, ACAS Veterinarian
Pets of the Week
RAVEN: Terrier mix, female, 1 year old, 21 pounds – $35
OREO: Domestic Shorthair, declawed, female, 9 years old, 8 pounds – $10