When you volunteer at the shelter, you learn a lot about forgiveness. Dogs and cats come to us injured, neglected and abused – yet, they forgive. These are animals who have never known love but are desperate to provide it.
Recently, two particular dogs have stolen my heart.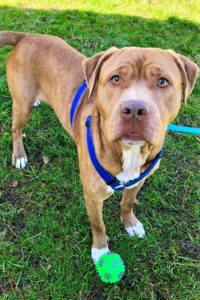 James arrived at the Aiken County Animal Shelter (ACAS) with scars all over his body. He had been attacked by dogs and he lay frozen with his eyes wide with fear. James had been found as a stray and was limping and covered in cuts, some needing to be stitched. When one of the trainers who helps evaluate the dogs put a leash on him to walk him, the terrified dog started to roll like an alligator biting at the leash. It was frightening and painful to watch. We gave him a bed and a meal and hoped for the best.
For two days Darling Rios, one of our canine coaches, sat with him, hand fed him and spoke softly to him. She then started leash walking him. This time, he just held the leash in his mouth while walking, almost for security.
After a week, James was allowing Darling to hug him and we introduced him to dogs and other people. The first time I walked him, he was hesitant because he didn't know if I was going to hurt him. Luckily, after only a short time, he was sitting at my feet and thumping his tail.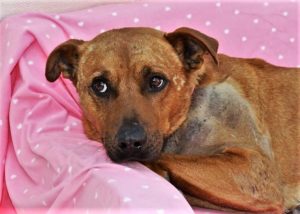 This wonderful dog is now calm and enjoys sitting with people and watching the other shelter dogs. No one ever came looking for James, but he has forgiven. He is ready to love someone with all his heart, and we are doing all we can to help him find someone who will love him the same.
Walter was brought in with a severe injury. His neck was wounded from a chain that dug into his skin. Dr. Levy, the shelter's veterinarian, treated him and he is healing fast! This poor dog lived his life on a chain that restricted his activity, keeping him from people and being nurtured.
We worried he would be aggressive. Little did we know that in a few days, after love from volunteers and staff members, he would be walking on leash, licking all visitors, playing with other dogs and acting like a family pet! He is embracing life again and now waits for his forever home where he will give his new family all of his heart.
The special thing about these dogs is their ability to love. If you purchase a puppy, you will get a cute, loving pet. However, if you adopt a dog that has never known love and you show them kindness, you will receive the most amazing gift ever! These are pets who are quick to bond, and they appreciate their owners in a special way. I promise you will never regret taking the time to show kindness to one of these pets. There is a connection that takes place, and it will change you both forever.
Please don't pass by a dog or cat that has a few scars, a few gray hairs, or one that hides in the back of their kennel. Stop, talk to them softly and treat them with kindness. You may find they're the missing piece to your heart.
Their lives are in our hands.
— By Kathy Jacobs, FOTAS Program Director