In early November, a stray puppy was brought into the Aiken County Animal Shelter by one of the animal control officers. I have seen a lot of neglected dogs enter the shelter but this one instantly brought tears to my eyes. We could all feel her pain. Her face was dripping blood, she had no fur, and she was just a baby!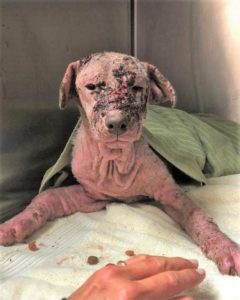 This sweet little girl didn't make a peep. She lay in the medical clinic on a blanket, eyes wide with fear, while allowing Dr. Levy and her kind-hearted assistants to clean and treat her. The puppy had a condition called Demodectic mange or "Demodex", a very treatable and non-contagious skin condition that we see in neglected, malnourished or stressed dogs. This was just the most severe case I had ever seen.
We called Paula Neuroth, one of FOTAS' most dedicated foster moms, and told her what just came in. Paula came in the next day and picked up the frightened pup. She and her husband, Rod, named the puppy Coco. During the next four weeks she healed beautifully. Paula called and said she thought Coco was some kind of Spaniel or Hound, and when her fur came in, she had a beautiful white coat with brown spots.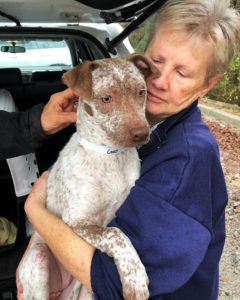 "Coco is a very brave little girl who has been through a lot," Paula said. "From the moment we brought her home she was gentle and so sweet. We just showed her a lot of love and she learned it is okay to have fun, eat without fear, and to trust people."
We have many dogs that come to the shelter with Demodex and they need foster care. Some just have patches of fur missing while others, like Coco, temporarily lose their entire coat. The recovery time is so much less when they are in a home environment, away from the stress of the shelter.
Coco is already in her forever home and living her dream life. Paula continues to foster those that need her, but we need more foster volunteers who can help. Currently we have other dogs with very treatable medical conditions that need a safe place to recover. These dogs are so grateful, they will love you more than any other.
Please consider fostering a puppy or dog in need. It is one of the most rewarding experiences you will have.
Their lives are in our hands.
— by Kathy Jacobs, FOTAS Program Director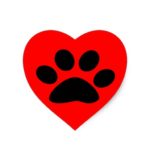 By the Numbers
From January 1 to 23, the County Animal Shelter took in more than 300 strays and surrendered pets.

Pets of the Week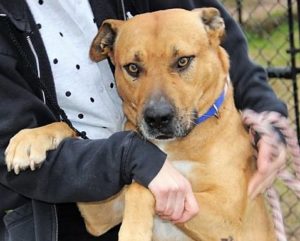 MARKUS
Mixed breed, male, 6 years old, 73 pounds – $35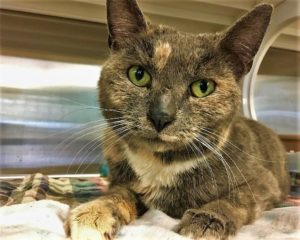 HOLLY
Domestic Shorthair Dilute Tortoiseshell cat, female, 4-1/2 years old, 6.5 pounds – $10  (at Aiken PetSmart store)