Wherever Reverend Bill Kline goes, Blue is close by his side. A veteran who suffers from many health problems, Kline adopted the four-year-old, 62-pound Siberian Husky just three months ago from the County Shelter. However, the pair quickly developed a strong connection and now Kline can't imagine being without his large canine companion.
"Blue's my lifeguard," Kline said. "It's amazing how he can tell if I'm not feeling well. If I'm down in the dumps, he's always right there to comfort me. He even knows when my blood sugar level is too low or too high. He'll lick my hand and let me know that I need to check it."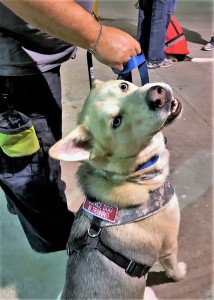 Kline was a medic in the Navy for 41 years, but his major health issues began only a year ago when he had a stroke, developed diabetes and was diagnosed with heart problems. His wife, Julia, is his "rock" and helped him through this difficult time. But he is still recovering and requires the physical strength that a dog like Blue can provide.
Blue is in training to be Kline's service dog, helping him to get around and assisting him with tasks such as picking up items dropped on the floor, bringing him bottled water and fetching his diabetic kit. He's also learning how to alert people if Kline falls or gets hurt, as well as how to use his body to help his owner get back to his feet. Blue attends classes offered by Veterans K9 Solutions and is expected to graduate early next year.
Named for his stunning eyes, Blue arrived at the County Shelter as an injured stray. He had been shot in the face and a bullet was removed from his chin. But once Blue recovered from his wound and was added to the adoption floor, it became increasingly apparent that he was a special kind of dog. Not only was he extremely calm and confident, but he also showed a natural drive to help and protect people.
Jerry Lyda of Veterans K9 Solutions is an expert at finding service dog talent and has worked closely with FOTAS and the County Shelter to find animals to assist folks who suffer from Post-Traumatic Stress Disorder (PTSD) and other war injuries. When he visited the County Shelter and saw Blue, he knew right away that this Husky was a star in the making. He also had a hunch Blue would be perfect for Reverend Bill Kline.
"Blue and Reverend Bill are doing awesome," Lyda said. "The bond between those two is amazing. I knew Blue was a winner – thank you so much for treating his injuries and making him available for adoption."
FOTAS and the Shelter are proud to support veterans and active military personnel by helping to provide Veterans K9 Solutions and other organizations with service dog candidates. FOTAS also sponsors free adoptions for veterans as well as men and women currently serving in the U.S. military.
Their lives are in our hands.
above Article by Bob Gordon, FOTAS  Director of Communications
By the Numbers
December Specials – dogs/puppies $35, cats/kittens $10
Saturday, Dec. 16 – Adoption event:
free photos with Santa Claus and your new pet!
Pets of the Week