With Christmas just a week away, FOTAS Volunteer John Berk reflects on what he will be doing on the holiday. His children are coming to visit and he and his wife, Sally, have plans to celebrate with them. But he also plans to make another stop.
"I'm sure I'll be at the shelter on Christmas morning walking the dogs and visiting with the cats," Berk said. "It's a constant need that we serve. I don't think Christmas feels any different to these animals in need."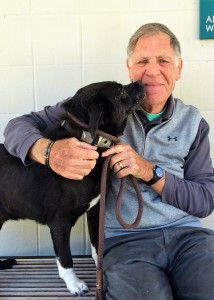 Berk came to Aiken 20 years ago, ready to retire after a successful career as a plant manager for a large corporation. An avid and skillful golfer, he used to spend much of his time on the links. But about four months ago, at the urging of a friend, he decided to sign up as a FOTAS volunteer. After completing a short application and taking a two-hour orientation class, he hit the ground running and immediately felt at home.
"Once you walk one of these dogs, it's hard not to come back," he said. "I get great satisfaction from giving comfort and a little bit of happiness to a dog or cat that really just wants to be loved and accepted."
Another new FOTAS volunteer who has found a second home at the animal shelter is Jackie Edel. A professional horse rider and trainer most of her life, Edel and her husband, John, moved from Connecticut to Aiken 11 years ago.
"I wasn't sure what to expect," Edel said. "But everyone was so friendly and welcomed me right away. I'm really impressed with how much effort people put in to get the dogs exercise and feeling more confident. And how hard they work to get them adopted."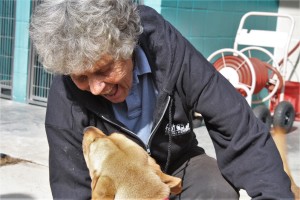 Edel has always been around animals and currently has four dogs and a cat at home. But it wasn't until she and her husband decided to downsize from their farm to a smaller house, freeing her from her horse care duties, that she decided to give volunteering a try.
With her experience and comfort level around animals, she's already become a star volunteer. She's at the shelter nearly every day and even helps with play group, an advanced program in which dogs are brought together to interact and burn off energy in the shelter's large, fenced-in yard.
But Edel's favorite part of volunteering is seeing the dogs and cats finding their human matches and getting adopted.
"I certainly have become attached to some of the dogs, but I'm just so happy when they go to good homes," she said.
If you would like to become a FOTAS volunteer, please stop by the County Shelter, 333 Wire Road, or call the FOTAS hotline, (803) 514-4313.
Their lives are in our hands.
above article written by Bob Gordon, FOTAS Director of Communications
BY THE NUMBERS
December specials – dogs/puppies $35, cats/kittens $10
Through November, the Aiken County Animal Shelter received 4,475 dogs and cats, and 3,722 were saved.
Please adopt and help our community shelter save 4,000 by year end!
PETS OF THE WEEK