Last July, I lost Jake, my 10-year-old black Labrador retriever. With the start of a new year, I felt ready to start seeking a new dog for our home. As I am in my 80th year, I didn't feel comfortable adopting a very young dog. I wanted a dog that was more my speed, one that had experienced life and needed a place to enjoy his golden years.
I increased my dog walking activities at the Aiken County Animal Shelter (ACAS) and enjoyed contributing more time to FOTAS. Then one day, my wife saw photos of available shelter dogs on the County web site. She noted an older, mid-sized, black dog named Arthur who caught her eye, and suggested I go look at him.
I drove to the shelter and asked the FOTAS volunteer who was walking Arthur if I could cut in and finish the job. After walking this calm, friendly dog for a bit, I sat down on the ground in the play area and asked Arthur if he was ready for a foolish old man to take him home. Arthur responded by wagging his tail and we bonded. I took Arthur home and, just as the shelter staff suggested, slowly introduced him to our other pets. Arthur, being a charmer, was promptly accepted by our 4-year-old Carolina dog and three cats – two of whom were adopted from the ACAS.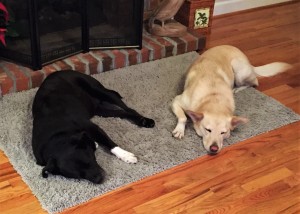 Since adding Arthur to our family, I've learned much about older, abandoned and abused animals. And I want to pass along what he's taught me.
Firstly, bonding with an older dog happens very fast. This is important for us older folks who have unknown, but probably limited, time ahead.
A senior dog with heartworms can be cured and live a normal life. (FOTAS paid for Arthur's treatment.)
A senior dog usually can do his potty business outside from day one.
An older dog is not hyper and prefers to snooze along with his older companion. He wants to stay close to home, rather than wander off.
A senior dog will be less inclined to chew on the furniture, sofa pillows, or available shoes.
Lastly, and this surprised me, even though Arthur is 9 years old, he still has the ability to change. He taught me that an older animal can unlearn memories of fear and relearn trust in a human companion.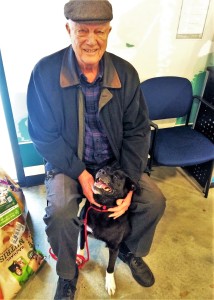 Arthur and I are still learning from each other and walking down our shared road of life, proving that old dogs can learn new tricks!
If my experience with Arthur has sparked your interest in adopting a pet, please visit the County Shelter located at 333 Wire Road in Aiken. Check out the available animals and meet the wonderful volunteers and staff. You can also volunteer some of your time to the animals, participate in FOTAS programs, or make a financial pledge to keep the operation going and growing.
Just tell them Mike and Arthur sent you.
 – By Mike Hardwick, FOTAS Volunteer
 
By the Numbers
March Adoption Special: Dogs/puppies $35, Cats/kittens $10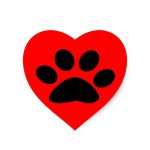 Pets of the Week
KANE
Mixed breed, male, 1-1/2 years old, brown & white, 51 pounds – $0 (adoption fee paid for by FOTAS donor)
SELENA
Domestic Shorthair, female, 2 years old, blue gray, 8 pounds – $0 (adoption fee paid for by FOTAS donor)