Rain or shine, hot or cold, 24 hours a day, seven days a week, 365 days a year! In some way, shape or form, FOTAS volunteers are helping to find homes for the more than 5,000 animals taken in annually by the Aiken County Animal Shelter!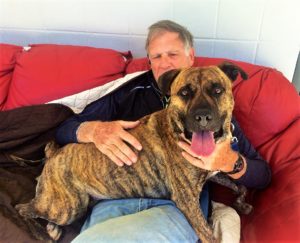 Let me count the ways you can help at this special place: fostering, walking, socializing animals, front desk reception, publicity, fundraising, assisting at special events, and much more. You're never too old to sit quietly in the sunshine with a scared or lonely dog by your side, or too young to cuddle a kitten under the watchful eyes of a parent. Seeing a dog run, play and chase toys in the play yard often results in the transfer of that same energy, enthusiasm and sense of well-being to the humans watching.
Nanci Santos, a longtime volunteer, says, "Sitting with a dog on the couch, watching the cars go by gives us both a sense of peace and love – feelings that flow both ways."
Always present and often our comedy relief, Volunteer John Berk loves to take pets for a doggy day out – walking in Hitchcock Woods, sipping coffee at his favorite downtown watering hole, or home for a weekend of up close and personal attention. An ex avid golfer John claims that, "Surely there is more joy in walking a dog than missing a three-foot putt!"
Dana Hollon, who is at the Shelter every Saturday, says "the animals' antics make me happy; they make me laugh!"
Bill Carter, another dog walking volunteer, explains, "I know they relieve my stress and I like to think I relieve theirs."
Front desk and lobby volunteers also find great satisfaction and challenge in helping visitors. These valuable folks greet everyone who walks through the door and match personalities — human, canine, and feline. Watching folks walk out the door and back to their car having adopted the perfect pet is so rewarding! My belief is that the pet finds you, not the reverse.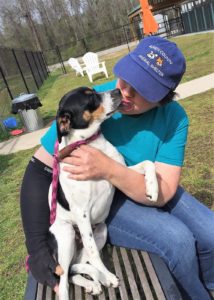 Major off-site fundraisers such as Woofstock and the FOTAS Playing Fore the Pets Annual Golf Tournament require months of behind the scenes preparation but result in community camaraderie, solidarity and raising funds. All of the donations go to the shelter animals who need spay/neutering, medical treatment, food and so much more.
If none of the above roles have your name on it, how about the simple enticement of happy people, smiling faces, teamwork, and the chance to meet and make new friends. Where else can you choose your own hours, be your own boss, and experience great job satisfaction?
So, consider volunteering at the Aiken County Animal Shelter among your New Year's resolutions and come to 333 Wire Road or go online and fill out a FOTAS volunteer application. Orientation sessions are scheduled at convenient intervals and last about an hour and a half. After that, you're good to go.
Welcome to the world of FOTAS volunteers – there's a lot in it for you!
— By Jan Barker, FOTAS Volunteer Trainer

By the Numbers
Since October 1, the County Animal Shelter has taken in 1,125 strays and surrendered pets.
 Pets of the Week
WYATT: Boxer mix, male, 3 years old, brown/rust, 53 pounds – $35
CEE CEE: Domestic Shorthair cat, female, 1-1/2 years old, black & white, 6.5 pounds – $10